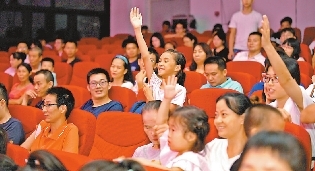 THE Bao'an First Classroom Quiz and Performance was held at the Cultural and Art Center in Songgang Subdistrict, Bao'an District, on July 11, attracting many residents from the neighborhood.
A short play on fire safety performed by a group of children from the neighborhood kicked off the night. Other performances by residents about traffic regulations and fighting corruption also won applause.
The quiz, show and lectures on matters regarding public livelihood were well received.
The Bao'an First Classroom is a district-wide campaign launched by Bao'an District Government on May 16 with the aim of enhancing public awareness of public safety and civilization in Songgang and other subdistricts across Bao'an.
According to Songgang Subdistrict Office, a total of 514 training sessions were organized daily between May 22 and July 11. A total of 100,000 people from 13 communities across the subdistrict attended trainings on public safety and civilized behavior over the 50 days, outperforming the goal set by the district government of training 89,000 people within three months.
The active participation of the public also shows that residents like the Performance+Training format, said the person in charge of the subdistrict office's campaign.
He said that through the first phase of the Bao'an First Classroom, a safer and more civilized living environment has been cultivated in the 13 communities of the subdistrict. (SD News)