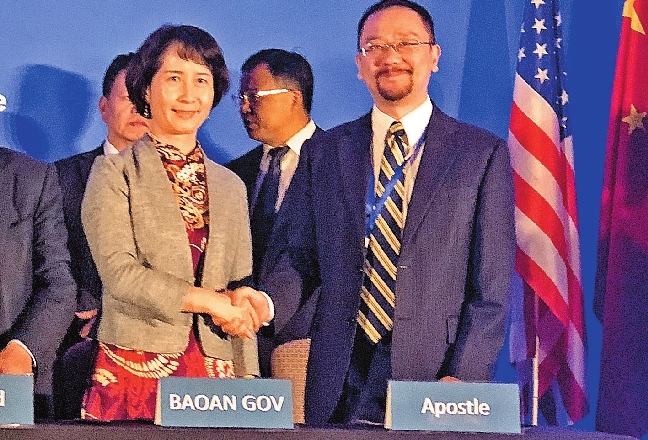 A BAO'AN government delegation paid a visit to the United States and Mexico last month to seek cooperation in high technologies, life health, genomics, smart city construction and industrial integration.
During a visit to Boston on June 16, Gu Jinghua, head of Invest Bao'an, which is tasked by the district government with attracting investment, signed an MOU with Prof. Shao Zhong, dean of the Computer Science Department of Yale University, on Yale-Shenzhen Innovative Center Project, which will inject new vitality to Bao'an's smart city and AI industry development.
Gu also signed an MOU with Prof. L. Jay Guo with the University of Michigan on the industrialization of nanostructured color research. Guo and his innovation group agreed to set up a headquarters and a nanostructured color research institute in Bao'an, which will build a nanostructured color gene bank for future development of the industry.
A Bao'an investment and trade promotion was held at Stanford University on June 18, at which Charles Cantor, a globally celebrated molecular biologist, was invited to give a lecture on precision medicine. Gu gave a brief introduction on Bao'an's investment environment and policies at the meeting.
That afternoon at the China Shenzhen-U.S. Silicon Valley Investment Collaboration and Exchange Conference, Bao'an and Apostle, a local life science company devoted to technologies for early cancer detections, clinched a deal to cooperate on the industrialization of Apostle's technologies by developing a reagent for early cancer detection.
The delegation's visit to Los Angeles resulted in the signing of strategic cooperation deals with the Chinese American Federation and CF Kent, a company specializing in serving the needs of the hospitality industry. The federation, a California-registered nonprofit NGO, will organize its member entrepreneurs to visit Bao'an in the near future, while CF Kent, which was founded in 1976 and provides interior design services for cruises and hotels, expressed keen interests in cooperating with Bao'an enterprises.
China (Bao'an)-Mexico High-tech Investment Exchange Conference took place in Mexico City on June 22, the last stop of the delegation's visit. Invest Bao'an signed an MOU with the China Chamber of Commerce and Technology Mexico, agreeing to capitalize on each other's resources and enhance collaboration in technical services. The chamber promised to provide financial, informational and technological support to Bao'an's high-end industrial projects.(SD News)