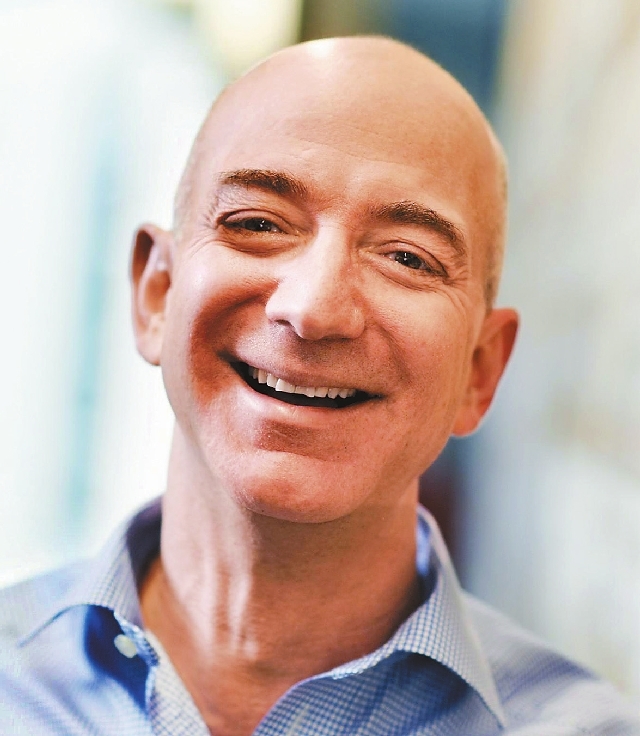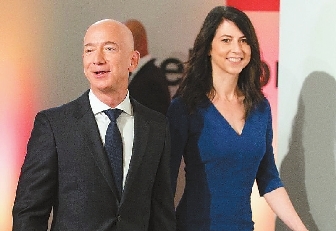 AS Amazon marked its "Prime Day" with price cuts across a range of products this week, founder and chief executive Jeff Bezos saw his net worth hit new peaks, increasing his lead over fellow billionaires.
Bezos' net worth topped US$150 billion Monday, according to the Bloomberg Billionaires Index, making him the world's richest person in decades.
The surge in the share price for Amazon — in which Bezos holds a stake of some 16 percent — has lifted his wealth by more than US$50 billion this year.
And Bezos has moved into a wealth category all by himself, far ahead of Microsoft founder Bill Gates, worth an estimated US$95 billion, according to the Bloomberg ranking.
Gates saw his net worth briefly hit US$100 billion in 1999, but since then Bezos appears to be the only person to top that milestone.
Historically, Bezos still trails other wealthy individuals such as oil magnate John D. Rockefeller and steel baron Andrew Carnegie, whose inflation-adjusted net worth would be more than US$300 billion.
Yet his rise has been nothing less than spectacular since 2014 when his fortune was estimated at around US$32 billion.
But Bezos hasn't always been the billionaire titan he is today. Born on Jan. 12, 1964 as Jeffrey Preston Jorgensen, he was the son of a 16-year-old mom and a deadbeat dad.
His biological dad, Ted Jorgensen, was 18 and his mother, Jacklyn Gise, was 16 when she became pregnant.
Jorgensen belonged to a unicycle troupe and worked at a retail store making US$1.25 an hour. He also "had a habit of drinking too much," according to "The Everything Store: Jeff Bezos and the Age of Amazon," by journalist and biographer Brad Stone. When Jeff Bezos was 17 months old, his mom divorced Jorgensen.
In 1968, Gise remarried Miguel Bezos, who arrived in Miami in 1962 from Cuba.
Bezos didn't find out that his father was not his biological father until he was 10. It didn't bother him much.
"The reality, as far as I'm concerned, is that my dad is my natural father. The only time I ever think about it, genuinely, is when a doctor asks me to fill out a form," Bezos said in 1999.
Growing up, Bezos spent summers with his grandparents on their Texas ranch, he said in the commencement speech he gave at Princeton in 2010. "I helped fix windmills, vaccinate cattle, and do other chores. We also watched soap operas every afternoon, especially 'Days of our Lives,'" said Bezos.
It wasn't all field work, though. Bezos' grandfather was a huge role model for him. Lawrence Preston Gise worked in the space industry and supervised 26,000 employees.
In a 2010 commencement speech, Bezos told the graduates that his grandfather taught him how "it's harder to be kind then clever."
Bezos got straight A's in high school, was the valedictorian of his class and was accepted on early admission to Princeton, according to Stone's biography. For a time in college, he thought he would be a theoretical physicist.
But it was years later, while working in finance in New York City, that he had the idea to start Amazon.
"I came across the fact that Web usage was growing at 2,300 percent per year. I'd never seen or heard of anything that grew that fast, and the idea of building an online bookstore with millions of titles — something that simply couldn't exist in the physical world — was very exciting to me," said Bezos, in his 2010 Princeton address.
At the time, Bezos was just 30 and had been married for a year. "I told my wife MacKenzie that I wanted to quit my job and go do this crazy thing that probably wouldn't work since most startups don't, and I wasn't sure what would happen after that," he said.
MacKenzie, six years younger than Bezos, supported him. They married in 1993 and have four children.
"As a young boy, I'd been a garage inventor. I'd invented an automatic gate closer out of cement-filled tires, a solar cooker that didn't work very well out of an umbrella and tinfoil, baking-pan alarms to entrap my siblings," he said. "I'd always wanted to be an inventor, and she wanted me to follow my passion."
When Amazon first started, it sold only books. Bezos would drive the packages to the post office himself in his 1987 Chevy Blazer. "I thought maybe one day we would be able to afford a forklift," Bezos told Charlie Rose in a wide-ranging interview in 2016. "And it is very, it's very, very different today."
After books, the next items Bezos added to Amazon were music and videos. Then, he asked customers to see what else they would want to buy from the online retailer.
"I sent an email message out to the customer base, actually a thousand randomly selected customers, and I said, besides books, music and video, what would you like to see us sell? And the list came back incredibly long," explained Bezos.
"It was basically just whatever people had on their minds right now," said Bezos, and that sparked an idea.
"People are very convenience-motivated," said Bezos. "So that really started the kind of the expansion into all categories, consumer electronics, and then apparel, and so on."
And expand he did. Today, Amazon sells almost everything, from toilet paper to groceries to electronics to fashion to furniture.
Bezos has always been a rare combination of optimistic, idealistic and visionary.
Back in 2003, while much of the tech industry was still hungover from the dot-com bust, Bezos was aggressively foretelling the potential of the Internet. "I do think there's more innovation ahead of us than there is behind us," said Bezos in a TED Talk he gave that year. "We're very, very early."
As consumer behavior on the Web has evolved, so too has Amazon. Prime, the e-commerce site's popular two-day shipping membership comes with access to premium television shows, for example.
Being a content creator built on the back of an e-commerce giant gives Amazon freedom to be creative. For example, one of Amazon's most popular shows, "Transparent," is about a patriarch who becomes a woman later in life. It's won eight Emmys and been nominated for another 28.
In addition to producing online shows, Bezos is also the owner of another kind of content: journalism. Through his Nash Holdings, he bought The Washington Post in 2013 for US$250 million.
"I bought it because it's important," said Bezos. "I would never buy a financially upside down salty snack food company. You know, that doesn't make any sense to me. But The Washington Post is important. And so it makes sense to me to take something like that, and I also am optimistic. And I thought there were some ways to make it — I want it to be a self-sustaining, profitable enterprise," Bezos said. "And I think it can be done."
Bezos' empire now stretches far and wide. Amazon, which currently has a market capitalization of more than US$800 billion, bought Whole Foods last year and also owns companies like Zappos and Twitch. Through Bezos Expeditions, he's also invested in companies like Twitter and Basecamp, among many others.
While shipping toiletries and downloading books has made Bezos wealthy, his passion is outer space.
"This is a childhood dream," Bezos said. "I fell in love with the idea of space and space exploration and space travel when I was 5 years old. I watched Neil Armstrong step onto the moon. You don't choose your passions, your passions choose you. So I am infected with this idea. I couldn't ever stop thinking about space. I have been thinking about it ever since then."
To that end, Bezos is the founder of Blue Origin, a company that aims to make space tourism affordable. Blue Origin has just shot a capsule higher into space Wednesday than it's ever done before.
"Basically what I am doing right now is taking my Amazon winnings and investing them. Every time you see me sell stock on Amazon, it's sending more money to the Blue Origin team," Bezos said.
In addition to making it possible for more people to travel to space, Bezos said he is building the infrastructure for the next generation of space entrepreneurs.
"If I'm 80 years old, looking back on my life and the one thing I have done is make it so that there is this gigantic entrepreneurial explosion in space for the next generation," said Bezos. "I will be a happy, happy man."(SD-Agencies)