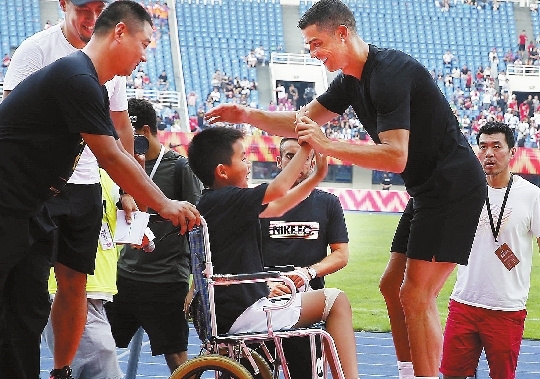 THE arrival of Portuguese superstar Cristiano Ronaldo added more heat to a steamy Beijing summer after the 2018 Russia World Cup sparked soccer mania across the country.
From the airport to Nike stores, from the hotel to the Palace Museum, wherever Ronaldo went, he was cheered by fans coming from all around the country just to take a look at their idol.
Apart from signing jerseys and taking selfies with his dedicated fans, the decorated star had more to offer to the soccer-loving country.
Ronaldo provided his suggestions for Chinese soccer in an interview. "Give opportunities to the kids, give them good possibilities, good pitches, open doors for them because the kids are the future," the star said.
Ronaldo has contributed his share to the development of Chinese soccer as he donated a pitch to a primary school in Longxi County, Gansu Province, in his first visit to China last year.
With the pitch completed in May, more kids can taste the joy brought by soccer. "Keep going, work hard, believe in yourself and never give up," was the advice that the Euro 2016 champion gave to the young players in China.
(Xinhua)