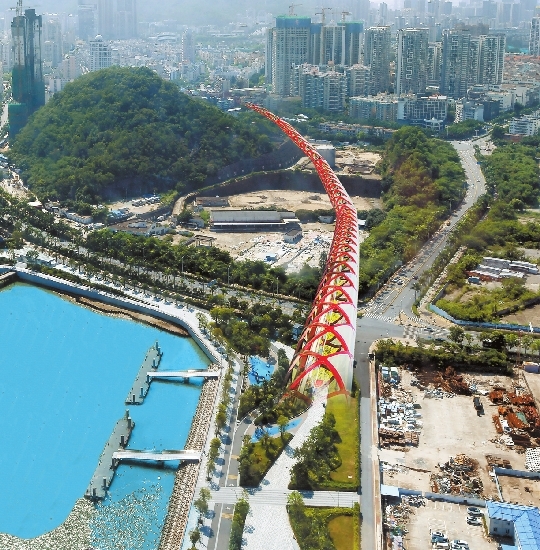 AN aerial bridge linking Shekou Square, Shekou Hill Park and the western section of Shenzhen Bay Park will be built in Shekou, according to a report by the Shenzhen Economic Daily, quoting a source from Shekou Subdistrict Office.
Shekou Square, covering 25,000 square meters, is located in the Dongjiaotou neighborhood. The government decided to upgrade the neighborhood in 2014 by building underground public transport facilities. The grounds will be used as a public park for leisure and sports exercise.
Afforestation restoration at the neighborhood will start next month. It is expected to offer 406 parking spaces for buses and cars when it opens before the Spring Festival next year.
The authority also started renovating the decommissioned Dongjiaotou Oil Depot into Shekou Hill Park last August. The oil depot, established in the 1980s, was mainly used to store diesel fuel, LPG and other dangerous chemical products. Covering 54,000 square meters, it had 20 oil tanks that could hold 38,000 cubic meters of fuel. With the urbanization of the area, the depot was surrounded by high residential buildings and more than 200,000 residents.
Due to safety concerns, the authority decided to relocate the oil depot and, so far, 18 of the 20 oil tanks have been dismantled, while the other two will remain in Shekou Hill Park as historical relics. Lawmakers in Nanshan District suggested that Shekou Hill Park be dedicated to the memory of China's reform and opening up, with facilities like a monument, museum, exhibition halls and sculptures demonstrating the achievements and major events in the development of China's reform and opening up. (Han Ximin, He Mufu)