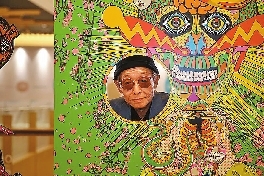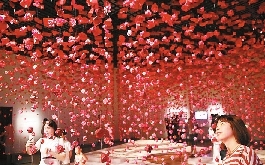 Japanese pop art leader
exhibits in Guangzhou
KEIICHI TANAAMI, 82-year-old and one of postwar Japan's leading pop artists, is hailed as a magician of visual images and known for the absurdity of the fantasy worlds constructed in his work, ranging from paintings, installations to graphic designs.
An exhibition that reviews his work since the 1960s is now on at the K11 Gallery in Guangzhou, a shopping and art experience mall, and will run through Sept. 2.
His work transmits an overwhelming visual effect that is closely associated with his childhood experiences during the war, while the weird, sophisticated patterns and his distinctive vocabulary of creation are derivative of Japanese folk arts.
Contemporary art steps
into Xishiku
THE first Xishiku Arts n' Docs event was held at Jiusi in Xishiku, Beijing on Saturday. More than 30 contemporary artists brought their works and interacted with community residents. The activity will last 101 days, ending Oct. 23. A total of 101 artists will be invited to the event in three phases, and 101 community families will take part in art creation.
The theme of the event is COMAN, a transliteration from the Chinese qiaomen, meaning "knock the door." The event is sponsored by TyroTenet Arts Club and art program MSTUDIO.
Exhibition brings alive
scenes in 'The Little Prince'
A NEW exhibition at the Eslite Bookstore in Suzhou, Jiangsu Province, is bringing alive scenes in "The Little Prince" by French writer Antoine de Saint-Exupéry via origami art.
Chinese artist Liu Tong's latest solo exhibition, "Reviving the Inner Child," features origami artworks inspired by the fairytale book, ushering visitors into a colorful world full of imagination. A room decorated with 6,700 origami roses is a highlight of the show. (SD-Agencies)