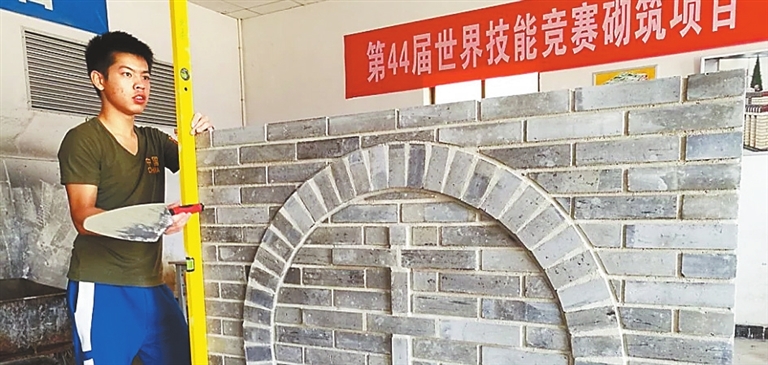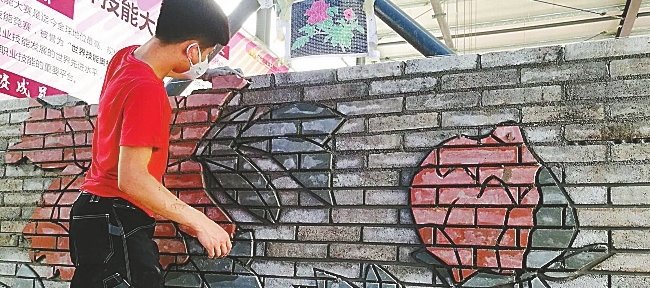 吴川少年用砖瓦砌成的大梦想
Twenty-year-old Liang Zhibin may not be rich or study at one of the country's top universities, but his college classmates idolize him like they would a pop star.
The young man is, after all, already a world champion. Liang was the first Chinese to win the gold medal in bricklaying at The WorldSkills Competition — an international test of vocational skills for young people held every two years — in Abu Dhabi in October last year.
He beat his competitors by completing three delicately constructed walls of various designs, including the national emblem of the United Arab Emirates, within 22 hours.
In a society where the ancient Chinese philosophy that academic study is more valuable than anything else still prevails, most people at his age see their path to success as entering a university.
But Liang, who started studying engineering and construction in 2014, sees his future in the construction trade. He attends the Guangzhou Architecture and Engineering Vocational School in Guangdong.
"You can become a master by studying in a vocational school. It's not always going to university and obtaining a doctoral degree," said Liang, who has already started passing on his craft to younger students.
Liang said he developed his prowess through years of practice.
After studying for more than a year at the Guangzhou college he was selected as one of the 10 candidates to represent China in the bricklaying competition at the WorldSkills Competition and got trained at the Changsha Building Engineering School for nearly two years.
He defeated the other nine and was finally chosen to take part in the event — which saw more than a 1,300 competitors from 79 different countries and territories testing their skills in fields ranging from construction work to fashion and IT.
In the bricklaying contest, competitors weren't just judged by the speed at which they built their walls but also on the precision of their work, and would be penalized for the slightest deviation in its angle.
"The meaning of doing all this lies in craftsmanship. You just don't give up on any detail," said Liang, one of the 15 Chinese gold medal winners at the Abu Dubai contest.
On his return he was feted by his classmates and even featured on the prime-time evening news.
"It never occurred to me that I would arouse so much attention," Liang told the South China Morning Post.
Born and raised in Wuchuan, Guangdong, a place known as the "town of construction," Liang said he had become interested in building work when he was a little boy.
His dream is to be a contractor, like his relatives and fellow villagers. But instead of just making a lot of money, he hopes he will be able to use his skills to repair historic buildings and build artfully designed low rises.
"I want to prove the old saying, 'one can become the master of his trade provided he is diligent and tries hard'," he said. (SD-Agencies)