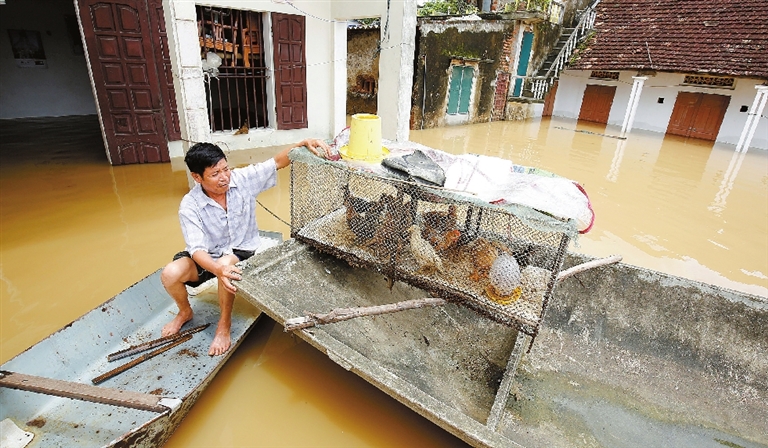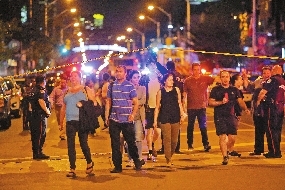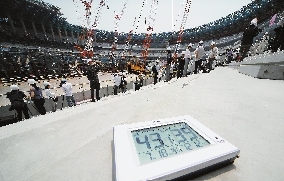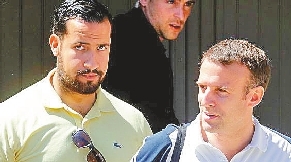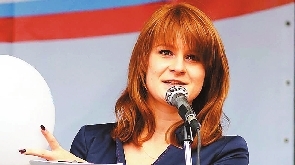 Death toll in Vietnam flooding rises
A man evacuates a cage of poultry at his flooded house after a heavy rainfall caused by Typhoon Son Tinh in Ninh Binh province, Vietnam, on Sunday. Flash floods* in Vietnam have claimed at least 19 lives, the government said on Sunday, as residents in affected areas sought safety in higher ground. Typhoon Son Tinh is the third tropical storm to hit Vietnam since the start of the year.SD-Agencies
Toronto shooting leaves three dead
Two people were killed and 12 others were injured after a gunman opened fire in the middle of the street on late Sunday in Toronto. The shooter is also dead, gunned down following the shooting spree, according to Toronto police.
The shooting took place near Danforth Street and Logan Avenue, which is in the city's Greektown neighborhood, often referred to as The Danforth.
Police confirmed they responded quickly and engaged in a shootout with the suspect, who used a handgun. The incident began at about 10 p.m., police said.
Japan heat wave kills 15
Japan's severe heat wave killed at least 15 people and sent more than 12,000 to hospital in the first two weeks of July, official figures show, as the temperature neared 40 degrees Celsius in many cities on Sunday.
Twelve people died of heatstroke* in the week ending July 15 after three perished* in the preceding week, according to latest data. More than 9,900 people were rushed to hospital during the week to mid-July, jumping from 2,700 in the previous week, the Fire and Disaster Management Agency said.
Investigators raid home of Macron's ex-bodyguard
Investigators have raided the home of a former top security aide to French President Emmanuel Macron, days after footage emerged showing him beating a young protester in May.
Opposition politicians have piled pressure on Macron, who has so far remained silent about the incident, to explain the government's handling of the affair.
According to the Paris prosecutor's office, the raid of Alexandre Benalla's house in the Issy-Les-Moulineaux suburb of the French capital took place on Saturday morning.
Pompeo told to free woman accused of espionage
Russia's foreign minister told his U.S. counterpart on Saturday that a woman arrested in the United States on accusations she was a Russian agent had been detained on "fabricated* charges" and should be released.
Sergei Lavrov made the comments about Maria Butina in a phone call to U.S. Secretary of State Mike Pompeo that was aimed at improving bilateral relations, the Russian Foreign Ministry said.
S. Korea MP embroiled in scandal kills himself
A prominent South Korean lawmaker who was being probed over a bribery scandal has committed suicide, police said on Monday.
Roh Hoe-chan, a three-term lawmaker of the left-leaning Justice Party had been under investigation for allegedly receiving 50 million won (US$44,300) from a powerful political blogger* linked to many politicians. The blogger, widely known by his online nickname "Druking," is currently on trial.(SD-Agencies)