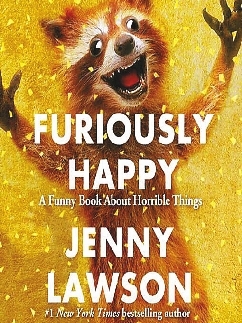 《高兴死了》
Depression and anxiety and physical pain don't sound like the stuff of comedy, but author Jenny Lawson makes her quirks* and disorders hilarious*. In this book, Lawson explores her lifelong battle with mental illness.
Through a series of essays on everything from overscheduled kids to her terror of keeping track of her expenses, she talks about dealing with the minutia* of life through the lens of someone who is also dealing with often debilitating mental disorders. There are several quotable moments in this series of essays. For those of us who battle depression: "We find ourselves unable to do anything but cling to the couch and force ourselves to breathe."
And: "When you come out of the grips of depression, you are a survivor who doesn't get a pat on the back or congratulations from co-workers."
This is a book about embracing everything that makes us who we are — the beautiful and the flawed* — and then using it to find joy in fantastic and outrageous ways. Because as Jenny's mom says, "Maybe 'crazy' isn't so bad after all."
Even for folks who don't battle anxiety disorder and clinical depression (as opposed to situational depression when you lose a loved one or a job or something), this is a hilarious, fun book.
The book is available at online bookstores like jd.com.
(SD-Agencies)