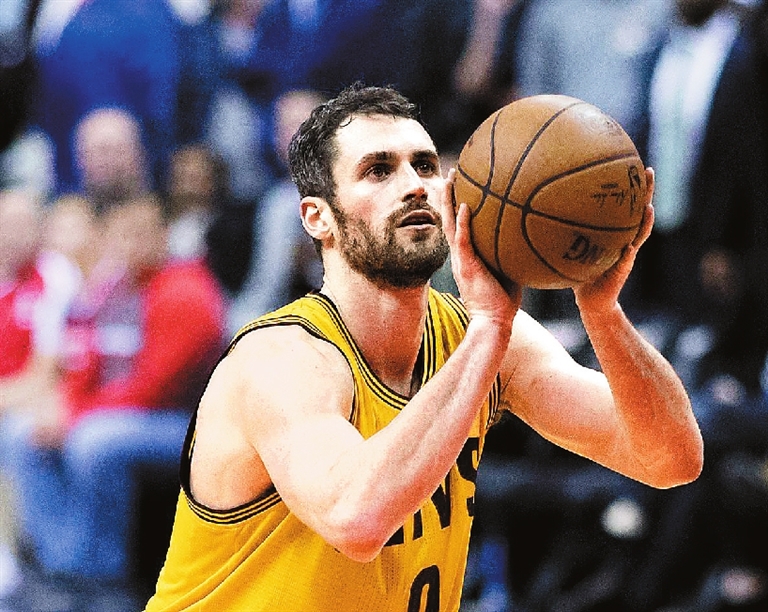 KEVIN LOVE has reached a four-year, US$120 million contract extension with the Cleveland Cavaliers, a person with direct knowledge of the situation told USA TODAY Sports. The person requested anonymity because he was not authorized to speak publicly until the deal was officially announced by the team.
The extension begins with the 2019-20 season, pushing his salary over the next five seasons to US$144.1 million.
In an exit interview after the Finals and after LeBron James decided to leave Cleveland for the Los Angeles Lakers, Love expressed his commitment to the Cavs and his interest in a long-term extension, the person told USA TODAY Sports.
Love, who will be 30 by the start of the 2018-19 season, is a five-time All-Star, including the past two seasons, but has not made an All-NBA team since joining the Cavs before the 2014-15 season.
Last season, Love averaged 17.6 points and 9.3 rebounds and shot 45.8 percent from the field, including 41.5 percent on 3-pointers. However, he missed 23 games last season and 22 games in 2016-17.
He was a major part of Cleveland's 2016 championship team, and his defense on Golden State's Steph Curry in the final minutes of Game 7 was one of the Cavs' iconic moments from the series.
The team later confirmed the deal in a news release.
"When I first came to Cleveland, I came with a long-term mindset," Love said in a statement. "I came here to win. We developed a culture here that reflects that. I'm super excited and I couldn't be happier. It's a big commitment for me and it's a big commitment from the Cavaliers, so I want to thank owner Dan Gilbert, general manager Koby Altman and the entire organization.
"I enjoy playing here, I'm excited about the team that we have and look forward to our future together. Cleveland fans have been special from day one and I'm also looking forward to continuing to be a part of this great community."
Love signals Cleveland's decision to avoid a rebuild in the post-LeBron era. Instead of trading Love for younger players and draft picks, the Cavs made it clear — at least in the short term — they want to see if they can remain competitive in the East without James, who signed a four-year deal with the Los Angeles Lakers earlier this month.
Love is now the centerpiece for the Cavs and will be the go-to guy offensive — possibly recreating the offensive numbers he posted with the Minnesota Timberwolves before being traded to the Cavs four years ago.
(SD-Agencies)