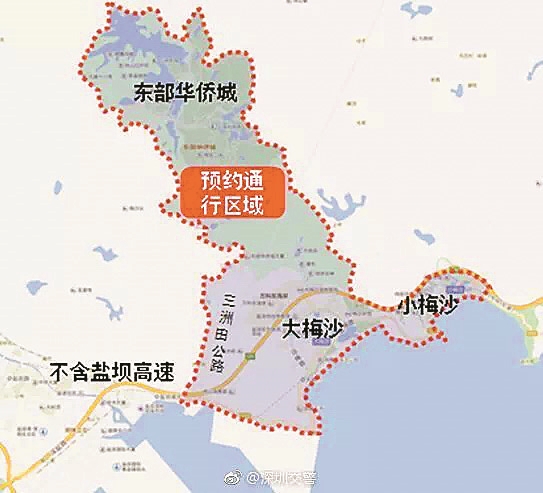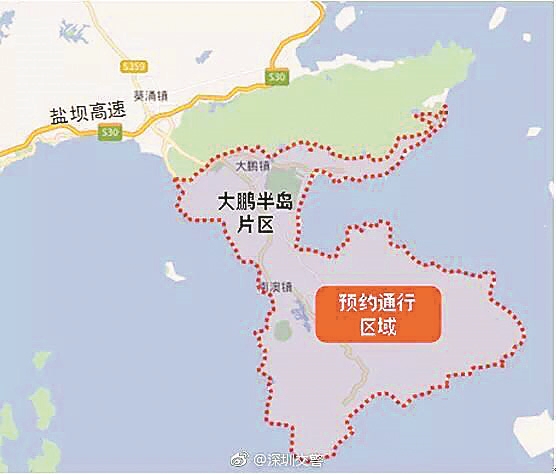 Han Ximin
ximhan@126.com
DRIVERS to Dapeng Peninsula and the Meisha area during weekends in August and the coming National Day holiday are required to register online in advance, Shenzhen traffic police said in a statement Thursday.
Violators will be subject to a fine of 300 yuan (US$48) and have three points added to their licenses.
The rule will take effect Aug. 11 and applies to any passenger vehicle with nine or fewer seats, including cars hailed via ride-sharing apps.
Police will limit registrations to 80,000 cars each day, 40,000 for each area. Among the 40,000 registrations, 30,000 will be allocated for individual drivers and 10,000 for local businesses.
Those who have to reschedule an appointment can cancel their reservation, but three cancellations could lead to a suspension from using the app for that day.
Drivers can register two weeks in advance via the police WeChat account, Alipay account, official website and app.
Taxis, trucks, emergency vehicles and cars seating 10 or more people are exempt from registering, as are people headed for other cities via the Yanba Expressway, and those who live or work in Dapeng.
The Meisha area covers Dameisha, Xiaomeisha and OCT East.
The rule was trialled in Dapeng during the May Day holiday this year, easing congestion due to the reduction in traffic.
The serious congestion last weekend in Dapeng and Meisha, the heaviest in history, prompted police to take measures to control vehicles in these areas.
Over the weekend, 77,000 vehicles went to eastern Shenzhen for leisure. Among the vehicles, 45 percent had nonlocal license plates. The Meisha area was also seriously congested with vehicles Sunday, and Yantian police received a total 110 congestion reports.
Tips:
Applicants can search for the WeChat ID "szjjwx," or the name 深圳交警, to register their vehicle details and phone number to make a reservation. They can choose between three periods to enter Meisha and Dapeng, namely the morning time slot (12 a.m.-12 p.m.), afternoon (12 p.m.- 6 p.m.) or night (6 p.m.-12 a.m.). If drivers can't arrive in the areas at the appointed time periods due to traffic congestion or accidents, they can report their delay in the system, which will automatically extend their reservation for six hours.
Drivers who have successfully made a reservation will receive a confirmation text message from police.