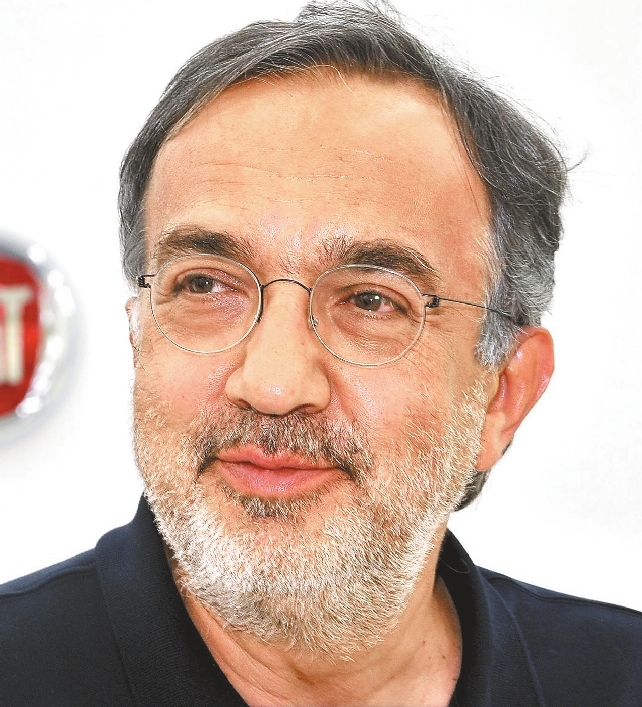 SERGIO MARCHIONNE, who died Wednesday at the age of 66, was little known when he took the driving seat at Fiat in 2004.
But he won the respect and admiration of Italy's politicians, unions and media alike by turning the ailing Italian carmaker around without massive job cuts.
And he subsequently merged Fiat with the troubled U.S. group Chrysler in 2009, transforming the combined entity into a global player that boasted a record performance in 2017.
The visionary Italian-Canadian executive had already been preparing to hand over control of Fiat Chrysler Automobiles (FCA) in April 2019, after the conclusion of the company's 2014-18 business plan.
But FCA announced last weekend that he became gravely ill in hospital in Zurich after suffering serious complications following surgery on his right shoulder last month. FCA's holding company Exor, which is owned by the Agnelli family, announced his death Wednesday.
"Unfortunately, what we feared has come to pass. Sergio Marchionne, man and friend, is gone," it said in a statement.
The eulogies had already begun to pour in last weekend on the news that Marchionne was stepping down as head of FCA.
Marchionne's "story is a great Italian story," former Italian Prime Minister Silvio Berlusconi said July 22, saying he had come to "symbolize Italian ingenuity" for the world.
Condolences came from around the world after his death and U.S. President Donald Trump wrote on Twitter: "Sergio Marchionne, who passed away today, was one of the most brilliant & successful car executives since the days of the legendary Henry Ford. It was a great honor for me to get to know Sergio as POTUS, he loved the car industry, and fought hard for it. He will be truly missed!"
Marchionne was the unlikeliest legend in the modern auto industry. An accountant by training, he was born in the Abruzzo region of Italy in 1952 but moved to Canada as a teenager. He was educated at Canadian universities and started his career at Canadian firms before returning to Europe. Before joining Fiat's board of directors in 2003 he had no experience in the auto industry. He was named Fiat's CEO in 2004.
"Four years ago, Fiat was a laughingstock," Marchionne wrote in the Harvard Business Review in 2008.
"Whenever you opened a newspaper in Italy, there was another embarrassing story: Fiat had lost more money; its new car had flopped; a strike was on somewhere. Even more worrying to me was the fact that the company had gone through four CEOs in three years. Imagine showing up in June 2004 and being the fifth guy to try to resuscitate what appeared to most people to be a cadaver."
Fiat was on the brink of death in June 2004 when Marchionne was recruited to sort things out. Fiat suffered a loss of approximately US$2.5 billion on its core auto operations in 2004. Many analysts expected it to simply exit the auto business.
Marchionne, who had moved to Europe at the time, had gained the company's controlling Agnelli family's notice by pulling storied old Swiss quality-assurance firm SGS back from near-collapse as CEO.
Given control of Fiat, he negotiated an over US$2 billion payment by General Motors to settle past contractual obligations with Fiat. He closed inefficient factories and restructured debt. Then he focused on expanding Fiat's product line, investing 10 billion euros (US$11.6 billion) to develop 20 new models in four years.
A notorious workaholic, Marchionne never shied away from making tough demands on Fiat's 65,000-strong workforce, either, as in 2007 when he decided to bring forward the launch of the new Fiat 500 by three months.
"We had our differences ... but together we challenged the lazy little Italy that prefers to close factories rather than roll up their sleeves," said Marco Bentivoglio, general secretary of the CISL union's metalworkers branch, on hearing about Marchionne's illness.
The turnaround made Fiat a cash-rich player by the end of the decade, just as the economic crash of 2008 hit the United States and battered the auto industry.
Marchionne captivated the global auto industry over the last decade with his candid assessments, tireless competitive spirit, remarkable transparency and multiple roles: chairman and CEO of Fiat Chrysler Automobiles, chairman and CEO of Ferrari, chairman of Maserati, and chairman of CNH Industrial, a European producer of trucks, buses, tractors and construction vehicles.
Born in the central Italian town of Chieti, Marchionne emigrated with his family to Canada, when he was just 14, settling in Toronto.
He studied philosophy, law and management in Canada and his first job there was as a tax specialist at Deloitte and Touche.
"I spoke English with a strong Italian accent, it took me over six years to lose it. That was six years lost with girls," he said in an interview with Turin-based daily La Stampa in 2009.
It was in the automotive world where Marchionne rose to larger-than-life fame. Marchionne did what many said was improbable: He resuscitated not just one failing automaker but two. He returned the United States' No. 3 automaker, Chrysler, to profitability by uniting it through a complex merger with Fiat — an Italian company that seemed incapable of penetrating the U.S. market.
"What I found was ... a company that had been run by a foreign entity for a long period of time, that had taken all of its wares on the way out," Marchionne said of his early days steering Chrysler in an address at the Brookings Institution in May 2014.
During the financial crisis in 2009, the stage was set for an unexpected takeover of Chrysler, one of Detroit's sickest automakers that had to be bailed out. The Obama administration's Auto Task Force was ready to let the smallest of Detroit's "big three" go. Dealing with the multibillion-dollar bailout and bankruptcy of General Motors at the same time was the higher-priority problem.
In January 2009, Fiat announced a strategic tie-up with Chrysler. And after the U.S. company emerged from bankruptcy in June that year, Fiat — and Marchionne — took operational control of the U.S. automaker without having to pay a penny.
Marchionne then staged a successful initial public offering of the company in 2014, just as the company's RAM and Jeep brands were benefiting from a resurgence of pickup trucks and SUVs.
Marchionne followed that up with a spinoff of Ferrari from the newly formed FCA in a 2015 IPO. Marchionne had struggled with the longtime Ferrari head Luca di Montezemolo over expanding production of the storied Italian supercar brand, which Montezemolo wanted to keep at 7,000 vehicles a year. Marchionne had 10,000 in his sights.
He took on the dual role of CEO and chairman, and he also oversaw Ferrari's Formula One racing campaigns. Marchionne was a Ferrari enthusiast and avid, if not always accident-free, driver: He crashed a 599 GTB in 2007, and he also owned a black Ferrari Enzo, named for the founder of the prancing-horse marque.
While he was perhaps the most provocative executive to steer Chrysler since Lee Iacocca retired in the early 1990s, Marchionne preferred a tiny office in a wing of FCA's vast technical center in a Detroit suburb.
Marchionne was a noted workaholic. "Being a leader at Fiat is a lifestyle decision," he wrote in the Harvard Business Review.
With Fiat and Ferrari in Italy, FCA headquartered in London, and Chrysler's operations based in Auburn Hill, Michigan, he traveled often and everywhere.
He dressed almost constantly in black — a life practice he said he adopted to save several seconds of decision-making every morning. Marchionne was a heavy smoker and espresso drinker until quitting both about a year ago.
Marchionne was unflinching in his negative views of how the global auto industry was managed — often incompetently, he thought — and how it obliterated cash. In 2015, he produced a scathing analysis of the business' inefficiencies, titled with typical flair "Confessions of a Capital Junkie."
The presentation was widely circulated and discussed, as it bolstered Marchionne's case that the auto industry was rife with redundant technology development, addicted to easy money, and determined to maintain far too much manufacturing capacity.
This he did in an consistently entertaining fashion, working the global auto circuit with his appealing combination of straight talk and edgy jokes. He rarely shied away from a bold position, arguing for example that electric cars were a costly waste of time no matter what Tesla and its CEO, Elon Musk, thought (he changed his mind on that score in 2017 and 2018 and was taking electrification more seriously).
A divorced father of two, he died Wednesday surrounded by his partner Manuela Battezzato, and his two sons, Alessio and Tyler.(SD-Agencies)