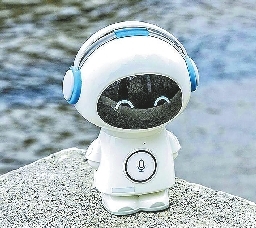 A WIDE variety of products featuring intelligent technologies were showcased at the 2018 Bao'an Industry Development Expo held over the weekend, catching the interest of visitors.
Shenzhen Saiyi Science and Technology Development Co. Ltd., a Bao'an company providing electronic design solutions, displayed a variety of intelligent products and came to initial agreements with some potential partners during the three-day expo.
One of the products highlighted by the company is an AI early childhood education robot that can communicate with and read stories to children. The robot can help young children learn while entertaining them.
The other products exhibited by the company included intelligent wearable devices, smart shoes that heat up and intelligent clothes.
A smart steak machine designed by another Shenzhen company, eg-cloud.com, made its debut at the expo Thursday.
The automatic steak-frying machine adopts IoT technology developed by the Shenzhen company along with technologies from South Korea and Japan. After three years of development and testing, the machine can automatically cook steaks safely and with good taste.
Currently, the company has applied for eight patents for the machine, and one has entered the assessment stage for an international patent.
Honque Technology, also Bao'an based firm, displayed a handy wireless massage device among an array of physical therapy apparatuses for home use.
One of the other products that caught the eyes of many visitors was a self-developed smoke-free moxibustion therapy device that allows residents to conveniently conduct moxa therapy without the smoky smell. (Zhang Qian)