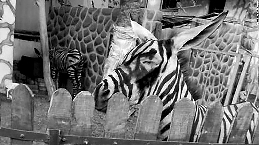 IT gives new meaning to the phrase "a wolf in sheep's clothing." Or in this case, a donkey in zebra stripes.
A zoo in Cairo, Egypt, has been accused of trying to fool visitors by painting zebra stripes onto a donkey, but the zoo director insists the animal is the real thing.
Mahmoud Sarhan, 18, said he was visiting a recently opened animal sanctuary at the International Garden municipal park when he spotted the strange looking animal.
Sarhan shared an image from his trip July 21.
Sarhan said several things about the animal stood out and made him suspicious. The black paint had melted on the donkey's face and the ears didn't look like the right size for a zebra, he said.
He posted a picture on his Facebook page, which quickly went viral.
In the photo, he's posing next to the animal, looking bemused. He wrote in Arabic: "The stupidity has reached a level in the country that they brought a local donkey and painted it to look like a zebra."
The director of Gardens Project in Cairo has denied the reports that they tried to pass off the donkey as a zebra.
"The zebra is real and not painted," Mohammed Sultan told Egypt's Youm 7 news channel.
(SD-Agencies)