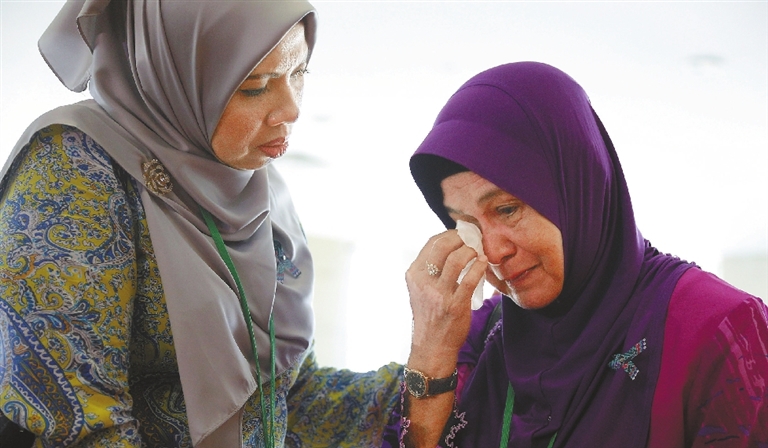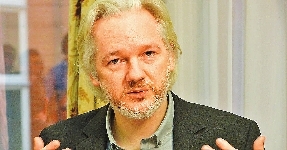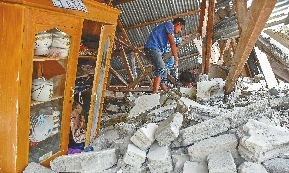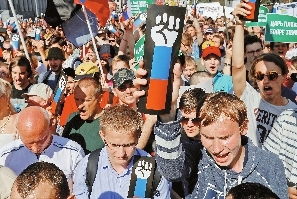 MH370 probe shows controls manipulated
A victim's family member cries after an MH370 closed-door meeting in Putrajaya, Malaysia, on Monday. Investigators released a report on missing Malaysia Airlines flight MH370 on Monday, saying the Boeing 777's controls were likely deliberately* manipulated* to take it off course but they were not able to determine who was responsible.
SD-Agencies
Cambodian PM's party claims all election seats
Prime Minister Hun Sen's ruling Cambodian People's Party (CPP) said on Monday it had won all 125 parliamentary* seats up for grabs in a general election a day earlier which critics said was neither free nor fair.
"The CPP won 77.5 percent of the votes and won all the parliamentary seats," CPP spokesman Sok Eysan told reporters. "The other parties won no seats."
The election was heavily criticized by rights groups, the United States and other Western countries.
Ecuador close to ejecting Assange from embassy
Ecuador appears to be finalizing plans to withdraw its asylum* protection for WikiLeaks founder Julian Assange last week, eject* him from its London embassy and turn him over to British authorities, according to media reports.
Assange, 47, has been holed up* in the embassy since 2012 after taking refuge to avoid extradition* to Sweden where he was wanted for questioning over allegations of sexual assault and rape.
Although Sweden has since dropped its investigation into the rape accusation, Assange has chosen not to leave the embassy.
Quake kills 14 on Indonesian tourist island Lombok
A powerful 6.4 magnitude earthquake struck the popular tourist island of Lombok in Indonesia on Sunday killing 14 people and sending villagers fleeing from their beds into open fields.
The quake, which rocked the island early in the morning when many people were still asleep, injured 162 people and damaged thousands of houses.
Electricity was cut off in the worst-hit area, Sembalun, a sparsely* populated area on the northern side of the island.
Moscow's plan to raise retirement ages protested
Protesters packed part of Moscow on Saturday to protest a bill that would raise Russia's retirement ages to 65 years for men and 63 for women.
Demonstrators with banners and signs rallied in the city center after the country's Communist Party got permission from the mayor's office for the protest, media outlet RIA Novosti reported.
The Duma, or lower legislative house, passed the measure in a first reading earlier this month.
Trump rattles GOP with threat of a shutdown
U.S. Congressional Republicans, already facing a difficult election landscape, confronted a prospect on Sunday they had worked feverishly* to avoid: a threat by President Donald Trump to shut down the government over funding for a border wall.
"I would be willing to 'shut down' government if the Democrats do not give us the votes for Border Security, which includes the Wall!" Trump wrote on Twitter. (SD-Agencies)