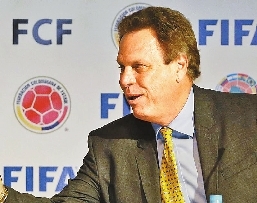 THE chairman of Colombia's soccer federation and other current and former executives are under investigation for alleged embezzlement and resale of tickets for the 2018 World Cup, South American qualifying matches.
The investigation is targeting current chairman Ramon Jesurun, his predecessor Luis Bedoya, executive Alvaro Gonzalez Alzate and former league chairman Jorge Perdomo, among others.
Colombian trade authorities said Monday the probe concerned eight of the nine home matches played by the national team. They believe 42,221 tickets were allegedly embezzled and resold, some at 350 percent over face value.
Proceeds from the criminal operation are estimated at US$4.5 million.
Jesurun was vice president of South America's soccer organization Conmebol before he joined different committees at FIFA in 2017.
Bedoya is in the United States as a protected witness after a Conmebol bribing scandal.
If the parties involved are found guilty, Colombian trade authorities could impose big fines.
Colombia's soccer federation said in a statement that the organization and its staff "will show their correctness, as they are the main victims and whistleblowers of such activities."
Authorities are also investigating Rodrigo Rendon Cano, the owner of the Real Cartagena club; his son Rodrigo Rendon Ruiz, plus ticket selling companies Ticketshop and Tu TicketYa.com.
Investigators say Rendon Cano allegedly received privileged information through the federation to lure partners and receive exclusive access to the tickets.
"The massive embezzlement of tickets and its resale were only possible because of actions attributed to the federation," trade investigator Felipe Robledo said in a press conference. "There were deliberate actions and deliberate omissions of the federation and its executives."
The investigations began in October 2017 when Colombia faced Paraguay in Barranquilla.
(SD-Agencies)