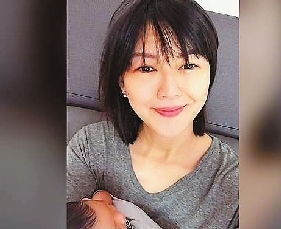 IT'S a special birthday for Singaporean singer Stefanie Sun, who gave birth to her second child just two days after celebrating her 40th birthday.
Sun announced on Facebook on Monday that she gave birth last Wednesday at Thomson Medical Center. She added that the baby — a girl — weighed 2.79 kg.
"Nadim [her husband] and I welcome our newest and youngest female family member — yes, the one whose existence was discovered at our busiest!" Sun said in her Facebook post.
She also wrote: "Baby girl's current status: Checking out a whole new world. Parents' current status: Checking out a whole new girl. Mama's current status: Hungry. Overall summary: Mother and baby are fine and in good health."
The singer also thanked the doctors, nurses and staff at Thomson Medical for "taking such great care of us."
This is Sun's second child with husband and Dutch-Indonesian businessman Nadim Van Der Ros. The couple welcomed their first child, a boy, in October 2012. (SD-Agencies)