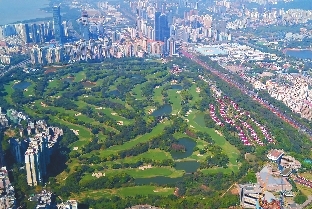 SHENZHEN Golf Club in central Futian District will be converted into a public area after the government recovers the land from the club operator.
The city's urban planning, land and resources commission said July 6 that the development of the land that the course occupies will be included into the upcoming plans for the Xiangmihu area. Government agencies are retrieving the land from the golf club.
Covering an area of 1.33 square kilometers, Shenzhen Golf Club is located in the central area of Futian to the south of Shennan Boulevard and is an eightminute drive from Huanggang Checkpoint. It was opened in 1985 and the operation license expired Feb. 17, 2015.
At the Fourth Session of the Sixth Shenzhen Municipal Committee of the CPPCC in January this year, the land and resources commission confirmed that the recovery of the land was in progress.
The golf club applied for an extension of the land use right Feb. 6, 2015, but the application was denied. In February 2018, the commission issued a notice ordering the club to hand back the land. The liquidation group signed the notice. On May 16, the commission organized a coordinated meeting with related agencies to take back the land.
The commission is preparing designs for the development of the Xiangmihu area. It will be an ecologically sustainable area featuring international quality and local characteristics that integrate an international exchange convention center, high-end finance, culture and creativity, business vitality, and neighborhood facilities. The development of the golf course land will be included in the overall plan for the Xiangmihu area. The commission did not provide details on the planning.
Residents near the golf club have suggested a park be built on the land.
(Han Ximin)