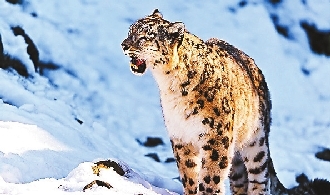 HERDERS in the Sanjiangyuan area in Northwest China's Qinghai Province have always resented the snow leopard that inhabits in the region, but a new pilot insurance program could mitigate the situation and help with the protection of the animal.
Sanjiangyuan, the source of China's major rivers, is a major habitat for the snow leopard, a class-A protected animal in the country. Its population in the area is estimated to exceed 1,000.
But while the growing population of snow leopards gives environmentalists something to cheer about, local yak herders do not share the same sentiment. In 2015, for every household in a village in the area, an average of 4.6 yaks are killed by wild animals including snow leopards per year. The biggest loss suffered was 23 yaks.
"Conflicts between local people and wildlife are a threat to the long-term protection of wildlife," said Justine Shanti Alexander of the Snow Leopard Trust, a non-governmental organization based in Seattle, United States.
This year, the management committee of the Sanjiangyuan National Park partnered with Beijing-based Shanshui natural protection center to launch a pilot insurance project in the area that pays herders up to 1,500 yuan (US$220) in compensation for each yak killed by wild animals.
Besides providing compensation, the committee and Shanshui also enrolled local herders in a program that educates them on the benefits of protecting snow leopards. "Herders from 15 households have been selected as guides for visitors. The proceeds will be shared by local households, a community fund and a fund dedicated to protecting the snow leopard," said Tashi Dongdre, secretary of the Ngong Township committee of the Communist Party of China.
"We are trying our best to strike a balance between the ecotourism and environmental protection," said British environmentalist Terry Townshend, an advisor to the program. "We provide nature lovers with opportunities to observe the wildlife and at the same time benefit the local community." (Xinhua)