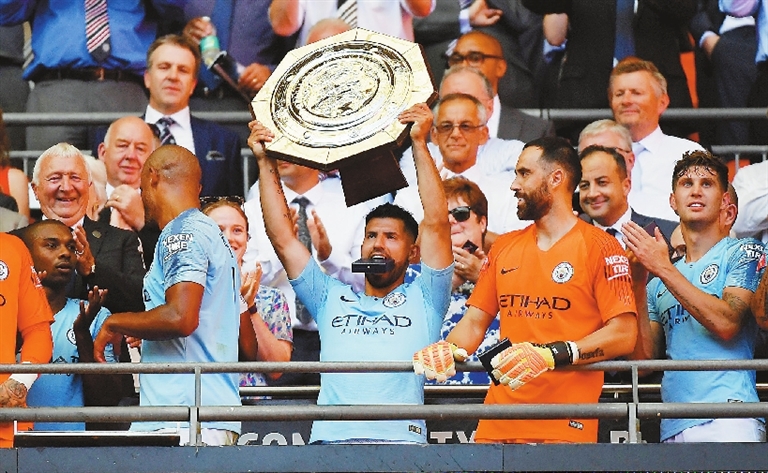 SERGIO AGUERO spoiled Chelsea manager Maurizio Sarri's first taste of English soccer as the Argentine's double gave Manchester City a stylish 2-0 victory in the Community Shield on Sunday.
Blues boss Sarri, hired to replace the sacked Antonio Conte last month, endured a miserable debut in the prestigious friendly at Wembley as Chelsea was swept aside by Premier League champion City.
Picking up where they left off in their record-breaking campaign last term, Pep Guardiola's men took an early lead through Aguero, who rewarded City's dominance with a second goal after the break.
The last side to win the Community Shield and then go on to clinch the Premier League title was Manchester United in 2010-11.
On this evidence, City players could follow in their arch rivals' footsteps at the end of the season.
"It's not easy to play after such a short time. It's complicated for all of them but they are so competitive. My hat's off to them," Guardiola said of his team's quick recovery after the World Cup.
"We couldn't press enough because the players were absolutely exhausted. But in general we made a good performance. I didn't expect that level of performance."
While the Community Shield serves as the curtain raiser to the new season, City and FA Cup holder Chelsea have very different ambitions for the Premier League campaign, which kicks off Friday.
City is the favorite to defend the title and among the top Champions League contenders after becoming the first English top-flight team to secure 100 points last season.
In contrast, Chelsea is starting from scratch after chain-smoking former banker Sarri was hired from Napoli as an antidote to his antagonistic predecessor Conte.
But healing the wounds of Conte's fractious two-year reign won't be easy for Sarri, as this spluttering performance underlined.
Sarri and Guardiola are close friends and dined together on the eve of the Community Shield, yet this first experience of Chelsea's reduced status left a nasty taste for the Italian.
"Today we were not in control of the match. We have a long way to go. We have to work. It's not easy," Sarri said.
Consigning Conte's favored 3-4-2-1 formation to the bin, Sarri sent Chelsea out in a 4-3-3 system that malfunctioned from start to finish.
Sarri has brought Italy midfielder Jorginho with him from Napoli to serve as the pivot for his manager's attacking game plan.
But Jorginho made an underwhelming start, repeatedly giving the ball away in dangerous areas. (SD-Agencies)