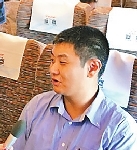 DAVID FENG is neither a train worker nor a frequent business traveler. However, in the first five months of 2018, he had taken trains 166 times, traveling 53,000 kilometers across China.
The Chinese-Swiss is a train aficionado who has become an online celebrity known for live streaming Chinese railway lines, stations, and trains of various kinds.
Over the past decade, Feng has visited over 2,300 Chinese railway stations out of the more than 3,000 spread across the country.
He is now shooting a documentary called "Next Station: China," planning to capture more than 2,200 stations in the country. He has already shot over 300 stations.
Born in 1982, Feng grew up in Switzerland. He finished his undergraduate, master and doctorate degrees in broadcasting and communications in China, and is now an associate professor at the Communication University of China.
His interest in China's railway system began 10 years ago when he first took the Beijing-Tianjin inter-city train, China's first high-speed railway line inaugurated on August 1, 2008. The train's top speed of over 300 kilometers per hour surprised him, which was 50 percent faster than the trains he took in Germany. "It was like stepping into the 22nd century," he recalls.
Since then, Feng has taken numerous trains in China and posted what he saw and thought on websites. "China's railway system is advanced, and there is nothing wrong with bragging about it," he says.
Feng has live-streamed in English to netizens from around the world, with topics ranging from the opening ceremony of new high-speed railway lines to the Spring Festival travel rush, the world's largest seasonal migration. The stream drew the attention of netizens from Asia, Europe and America.
He also likes correcting the sometimes funny English translations at some stations. "Chinese high-speed railways use the best trains, so naturally, they should use correct English too," he says. He noticed that "a ticket machine" was mistranslated as "buffet ticket office," and "a ticket counter" as "artificial ticket office."
Feng decided to start a column called "Railway English" on his Twitter-like Sina Weibo to correct the incorrect translations. It was not long before a railway bureau noticed his microblog and invited him to give a lecture. He is now a regular visitor to several bureaus for English instruction.
His book "1,000 Sentences for Passenger Service" was published in 2017. Without any commercial promotion, the first batch of 3,000 books sold out in two weeks. The publishing house soon printed 10,000 more books. (Xinhua)