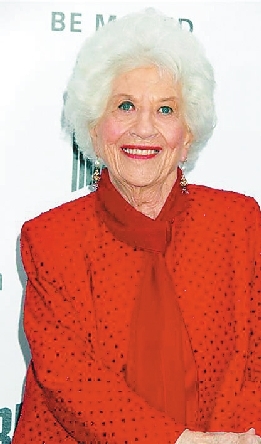 CHARLOTTE RAE, who endeared herself to a generation of TV fans as the affable Mrs. Garrett on the long-running NBC sitcom "The Facts of Life," died Sunday at her home in Los Angeles, publicist Harlan Boll announced. She was 92.
Rae, who earlier earned two Tony nominations and played Woody Allen's mother in "Bananas" (1971) and a long-suffering wife on the classic sitcom "Car 54, Where Are You?, " revealed in April 2017 that she had been diagnosed with bone cancer, seven years after a pancreatic cancer diagnosis.
"Now, at the age of 91, I have to make up my mind," she said in a statement at the time. "I'm not in any pain right now. I'm feeling so terrific and so glad to be above ground. Now I have to figure out whether I want to go have treatment again or opt for life. I love life. I've had a wonderful one already … I've had a great life, but I have so many wonderful things happening. I'd like to choose life. I'm grateful for the life I've already had."
Rae originated the character of Edna Garrett in 1978 for NBC's "Diff'rent Strokes" and then went on to play her for seven seasons on the "Facts of Life" spinoff. In 1982, she received an Emmy nomination for outstanding lead actress in a comedy series.
Debuting in 1979, "Facts of Life" revolved around a group of teenage girls attending a private New York boarding school. Guiding them through the trials and tribulations of adolescence was Edna Garrett, their no-nonsense, but always understanding, housemother. (A reboot is in the works at Sony.)
In a 1982 interview with the Spartanburg (S.C.) Herald, Rae reflected on the character that had made her a star.
"I want to bring in as much humanity as possible, as well as the humor," she said. "I've tried to make her a human being with dimensions. The way they write her now is with a great deal of sensitivity and understanding. But I don't want her to be Polly Perfect, because she must have human failings and make mistakes.
"She's also a surrogate mother to the girls. I told them I wanted to be firm with the girls because I know it's important. Parents must lay down ground rules for their children to help them to grow up and to learn responsibility for their actions. They must learn to stand on their own two feet."
Born Charlotte Rae Lubotsky in Milwaukee on April 22, 1926, she was one of three daughters of Russian Jewish immigrants.
Rae caught the acting bug early, performing with the Children's Theater of Wauwatosa and acting on the radio. As a teenager, she won a summer apprenticeship with the Port Players, a professional summer theater company. She also was a regular on stage at Shorewood High School.
(SD-Agencies)