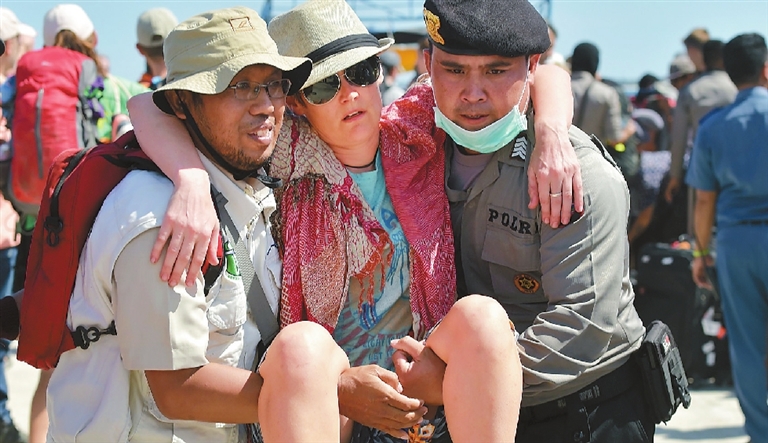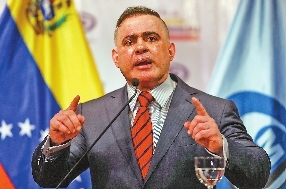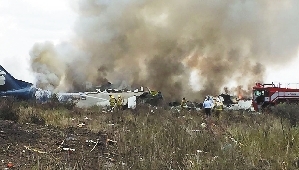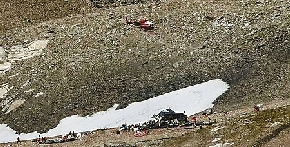 Tourists evacuation
A foreign tourist (C) is given assistance as evacuated tourists arrive from nearby Gili Trawangan island at the port at Bangsal in northern Lombok in Indonesia on August 7, 2018, two days after the area was struck by an earthquake.
SD-Agencies
Death toll rises to 91 in Indonesia quake
Around 40 Chinese tourists who had been trapped on Indonesia's Lombok and nearby islands after a powerful earthquake were expected to be evacuated* on Monday, as the death toll of Sunday's 7.0-magnitude quake rose to 91, with hundreds of others injured.
The number of victims is expected to rise as rescue efforts continue.
By Monday evening, over 350 tourists had been moved so far from the three Gili Islands, an area famous for its white sand beaches and clear water.
An estimated 600 tourists continued to await rescue.
The devastation came exactly a week after the region was hit by a 6.4-magnitude quake that left at least 15 people dead and 162 injured.
Maduro survives assassination* attempt
Seven national guards have been injured in Venezuela after an apparent assassination attempt on President Nicolas Maduro on Saturday using an explosive-laden drone as he addressed the nation on live TV.
Maduro accused neighboring Colombia and unidentified "financiers"* in the United States of being responsible for the attack, while some of his officials blamed Venezuela's opposition.
No deaths in Mexico
passenger jet crash
Dozens of people were injured on Tuesday when a packed Aeromexico-operated Embraer jet crashed soon after takeoff in Mexico's state of Durango, but authorities said most were not seriously hurt and there were no fatalities*.
The mid-sized jet was almost full, carrying 103 passengers and crew members, when it came down at around 4 p.m. local time.
The operator of Durango airport, Grupo Aeroportuario Centro Norte, attributed the crash to bad weather conditions, citing preliminary reports.
Twenty killed in plane crash in Swiss Alps
All 20 people on board were killed when a small vintage plane crashed in the Swiss Alps, police said on Sunday.
Three Austrians and 17 Swiss were on board the trimotor JU-52 aircraft, built in the late 1930s as a military aircraft and later used to operate scenic and charter* flights, when it crashed shortly before 5 p.m. on Saturday on the west side of the Piz Segnas mountain in the canton of Grissons.
Millions potentially excluded from Indian citizenship
Indian authorities have left the names of almost 4 million people off a controversial* registry* list in the northeast border state of Assam, effectively casting a shadow over their citizenship.
Proponents of the registry say it will help root out illegal Bangladeshi immigrants, but the move has prompted fears of possible deportation* among Assam's hundreds of thousands of Bengali-speaking Muslims.(SD-Agencies)