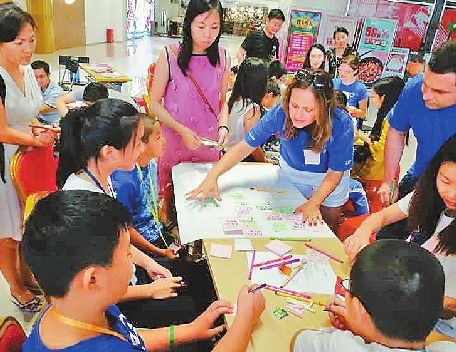 少年与AI—IBM志愿者团队科技阅读分享会
Zhang Qian
zhqcindy@163.com
A group of 13 volunteers from IBM, who have been working to help Shenzhen achieve its goal of becoming a child-friendly city, instructed local teenagers in imagining a future with artificial intelligence (AI) and recommended enlightening books for them to read over the weekend.
The volunteers, coming from nine countries including the United States, Canada and Spain, are experts in the fields of cloud computing, data analysis and project management, among others.
During the workshop on Saturday, the IBM volunteers shed light on the concept of AI technologies, leading them to a deeper understanding of the emerging technology. They inspired teenagers to brainstorm ideas about a future life with AI.
"If we can put a computer's fast computing abilities together with a human's recognition abilities, then it is AI technology," said Ana Lara, an IBM staffer from Spain.
The volunteer then elaborated to the teenagers that AI technology can understand human languages, reason with people and give hypotheses with strong learning abilities. "The most important thing is that AI technology can feel us," said Lara.
Under the guidance of both the IBM volunteers and instructors from other local volunteering institutions, over 40 teenagers and their families let their imaginations venture into a world supported by all sorts of AI technologies.
The families were divided into seven groups to discuss what such a world would be like in different scenarios including in communities, at offices, with families, and at schools, theme parks, hospitals and shopping malls.
Each group came up with innovative ideas about the future world with AI technology in different settings.
In the second half of the workshop, the IBM volunteers recommended books that could inspire teenagers to further explore the world of science. Indira from IBM Canada recommended "The Lunar Chronicles" series by Marissa Meyer and an Irish volunteer named Peter suggested "1,001 Inventions That Changed the World" by Jack Challoner.
During the month-long service, the volunteers and local charity organizations will help Shenzhen develop child-focused projects with their specialized knowledge in technology and project management.
This batch of outstanding employees is the 41st volunteer team IBM has dispatched to help with such projects in China.