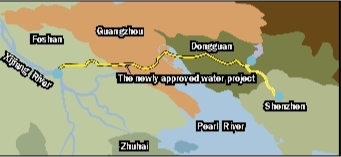 Han Ximin
ximhan@126.com
THE Pearl River Delta Water Resources Allocation Project, dubbed as the No. 1 water conservation project in the Guangdong-Hong Kong-Macao Greater Bay Area, has been approved by the Central Government recently, according to local Chinese press Thursday.
The project, which will pump water from the Xijiang River to the Dongjiang River, will ease the water shortages in Guangzhou, Shenzhen and Dongguan, and ensure an emergency supply for Hong Kong, upon completion in five years.
The plan the National Development and Reform Commission approved Aug. 2 showed the water resources allocation project includes a 90.3-km trunk line, two sub-trunk lines, one branch line, three pump stations, and a new regulating reservoir, along the 113-km underground pipeline route.
The sub-trunk line to Shenzhen runs 11.9 kilometers and the sub-trunk line to Dongguan runs 3.5 kilometers. The branch line to Nansha in Guangzhou runs 7.4 kilometers. It is expected to bring 847 million cubic meters of water to Shenzhen a year on average.
The project will go through the city cluster in the Pearl River Delta starting from Liyuzhou, the main stream of the Xijiang River, and ending at Gongming Reservoir in Shenzhen.
The underground project will protect the ecological environment and save land for the further development of the Greater Bay Area.
The construction of the pipeline project faces many challenges, especially the 10-km Shiziyang tunnel under the mouth of the Pearl River.
The construction of the 33.9 billion yuan (US$5.4 billion) project will start at the end of this year and is expected to take 60 months to complete.
The water resources utilization rate of the Dongjiang River estuary has reached 38.3 percent, close to the international alarm standard of 40 percent. However, the supply couldn't meet the demand. In contrast, the water capacity of the Xijiang River is 10 times that of Dongjiang, while its utilization rate is only 1.3 percent.
Guangdong initiated a feasibility study on the allocation of water resources from the Dong-jiang and Xijiang rivers nearly 10 years ago.
The project was listed in the 2012-2030 Pearl River Estuary Comprehensive Plan by the Guangdong Provincial Government and State Council.
Millions of people, institutions and enterprises will benefit from the project, which is the largest water conservation project in Guangdong's history.