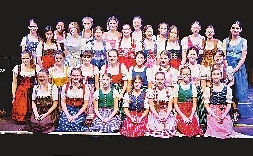 Vienna Girls' Choir will present a night of Austrian folk songs and classical German pieces.
In 2008, the Vienna Music School Choir participated in the fifth World Choir Games in Graz and won a gold medal and a bronze medal. In 2009, the school director Fischer selected 30 of the best students of the choir, and formed the Vienna Girls' Choir through an entrance examination. Its members come from all over the world, ranging in age from 11 to 18.
Every year, the choir performs at the most influential St. Stephen's Cathedral and the Vienna Concert Hall. Their unique voice and singing ability leave a deep impression on thousands of spectators. The Vienna Girls' Choir has won numerous prizes at European and international choir competitions. It has been invited to participate in art festivals in many countries in Europe.
Time: 8 p.m., Aug. 10
Tickets: 100-580 yuan
Venue: Shenzhen Poly Theater, intersection of Wenxin Road 5 and Houhaibin Road, Nanshan District (南山区后海滨路与文心五路交界处深圳保利剧院)
Metro: Line 2 or 11 to Houhai Station (后海站), Exit E
(SD News)