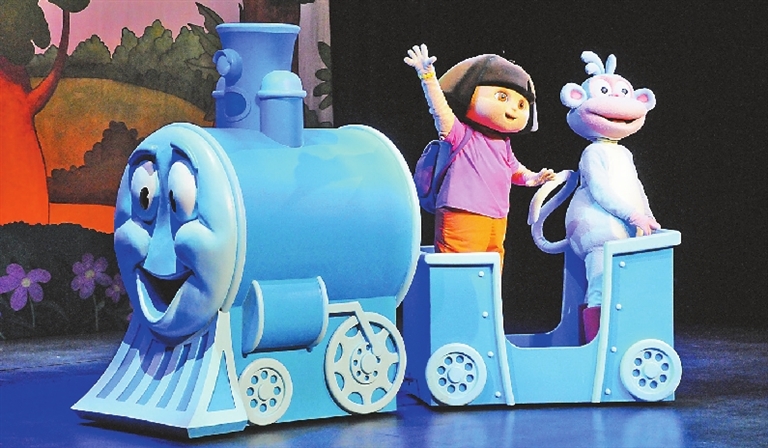 Nickelodeon will present its "Dora the Explorer Live! Search for the City of Lost Toys" in English and Chinese versions.
"Dora" fans will delight in this song and dance spectacular. The stage work is designed to teach children to explore, communicate, overcome obstacles, solve puzzles and discover a diverse and exciting world, all while having fun.
In the show, Dora has lost her teddy bear Osito. With the help of the audience, Map, Backpack, Boots, Diego and their courageous friends, Dora uses her map-reading, counting, musical and language skills to successfully pass through the number pyramid and the mixed-up jungle to reach the City of Lost Toys. But watch out — you never know what that sneaky fox Swiper might be up to along the way!
One of Nickelodeon's most beloved cartoon series, "Dora the Explorer" won a Peabody Award in 2003 "for outstanding effort in making learning a pleasurable experience for preschoolers.
The series centers around Dora, a girl with a love of embarking on quests related to an activity that she wants to partake of or a place that she wants to go to, accompanied by her talking purple backpack and monkey companion Boots (named after his red boots).
Chinese: 3:30 p.m., Aug. 11-12 (Aug. 11 also at 10:30 a.m., 7:30 p.m.)
English: 10:30 a.m., Aug. 12
Tickets: 180-480 yuan
Venue: Nanshan Cultural and Sports Center, 2106 Nanshan Boulevard, Nanshan District (南山区南山大道2106号南山文体中心)
Metro: Line 1 to Taoyuan Station (桃园站), Exit B(SD News)