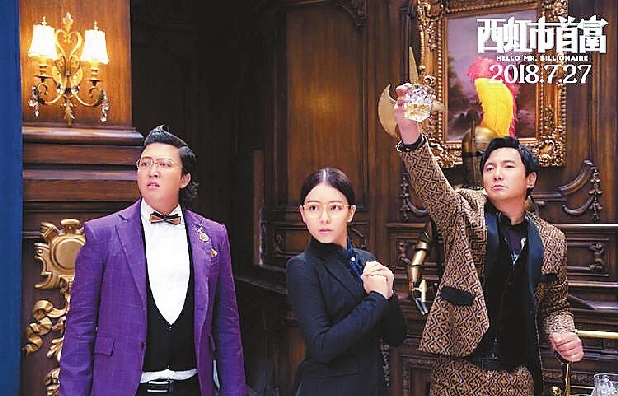 Starring: Shen Teng, Vivian Sung, Zhang Chenguang, Zhang Yiming, Chang Yuan, Wei Xiang, Allen Ai Director: Yan Fei, Peng Damo
LOOSELY based on the 1985 Richard Pryor comedy "Brewster's Millions," homegrown comedy "Hello Mr. Billionaire" opened to a remarkable US$131 million in China on July 27 and sparked a debate about obscene spending and the wealth gap in the country. The strong opening boosts its hopes of becoming the breakout summer hit at the local box office.
"Hello Mr. Billionaire" tells the story of an underachieving soccer player's attempt to reasonably spend 1 billion yuan (US$147 million) in a month as a condition of inheriting the 30 billion yuan in assets from his late Taiwanese uncle.
The film reunited the creative team behind the 2015 hit "Goodbye Mr. Loser," the wildly successful Chinese comedy troupe Mahua FunAge, which has grown into a 5-billion-yuan enterprise since its establishment in 2003. Although the film was not made under the Mahua FunAge banner, the directing duo Yan Fei and Peng Damo, as well as the comedy's leading man, Shen Teng, are all contract players in the troupe.
"Goodbye Mr. Loser" in 2015 grossed 1.44 billion yuan and the movie was a dark-horse miracle in the film industry. Mahua FunAge's second comedy film based on its own stage play, "Never Say Die," grossed 2.21 billion yuan in 2017.
"Hello Mr. Billionaire" opened with a bang at the box office, but it has ignited debate in China. The film has polarized critics and led to some to describe it as "spiritual opium." Much of the controversy has focused on the depictions of "tasteless and vulgar" conspicuous consumption, as well as the portrayal of gold diggers flocking to the spendthrift main character.
On film review aggregation website Douban.com, it only has a rating of 6.7/10 from over 100,600 users, much lower than the phenomenal tearjerker "Dying to Survive," which currently has a rating of 8.9/10 and grossed 3.03 billion yuan in the Chinese market.
"Hello Mr. Billionaire" shows the main character's attempts to spend money backfiring for comedic effect, and the fact that he ends up richer by accident has struck a nerve in a country that is grappling with rising income inequality. China is now home to 800 of the world's billionaires, and their extravagant spending, power and prestige has become a source of great controversy. In attempting to show a more farcical side to China's 1 percenters, "Hello Mr. Billionaire" has only caused more consternation and resentment among some.
On an interesting side note, Mahua FunAge's real film production of its own, "Hello, Mrs. Money," the third comedy film based on a comedy stage show developed by the troupe for years, just announced it will hit Chinese theaters Sept. 30 to join the competitive National Day holiday race against other rivals including Zhang Yimou's new film "Shadow." Based on its title and synopsis, "Hello, Mrs. Money" will also be a comedy about money. (SD-Agencies)