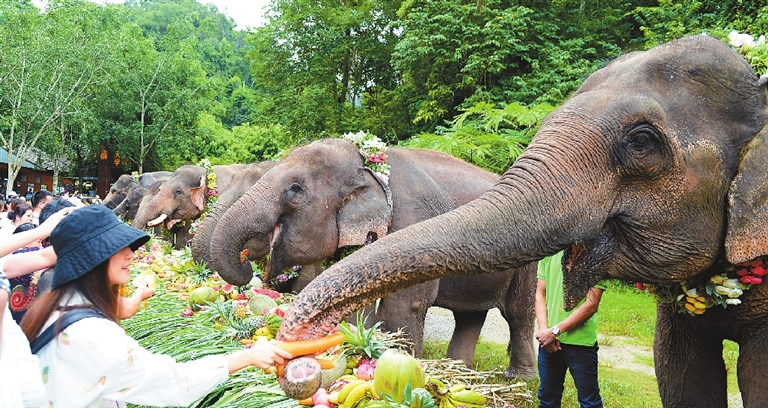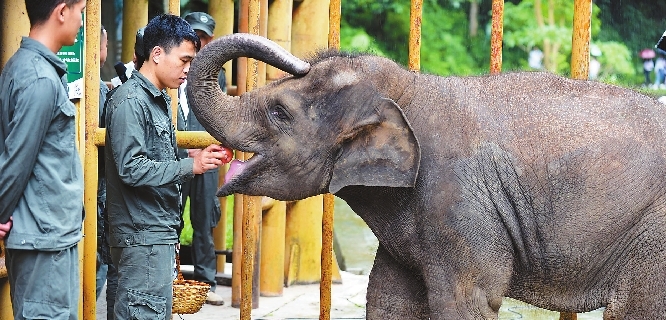 A DOZEN wild Asian elephants paraded through the streets and enjoyed a special fruit feast at the Asian Elephant Breeding and Rescue Center in Southwest China's Yunnan Province for the World Elephant Day on Sunday.
Established in 2008 in Xishuangbanna National Nature Reserve, a 241,000-hectare rainforest, the center has rescued 13 wild Asian elephants, 10 of which are still receiving medical care and rehabilitation at the sanctuary. So far, five elephant calves have been born there.
The animals are under Class-A protection in China and are included on the International Union for Conservation of Nature's (IUCN) Red List of Threatened Species, recognized as "endangered."
"Enhanced protection has led to a rise in the number of the mammals in recent years," said Bao Mingwei, an elephant doctor. "In the 1990s, only about 180 wild Asian elephants were living in China, but now the population is estimated to exceed 300."
Elephant-human conflicts
In China, wild Asian elephants are scattered across a few regions, with Xishuangbanna one of their primary habitats. However, according to the provincial forestry bureau, wild elephants caused 32 deaths and 159 injuries from 2011 to 2017.
"Population growth, reclamation expansion, and a decrease of habitats for wild elephants are the primary causes for the conflicts," said Chen Mingyong, a professor at Yunnan University.
The simple digestive system of Asian elephants makes them frequent eaters. They have to eat about 300 kilograms of plants every day. "If the forests can't meet their needs, they may risk stepping into farmland to fill their belly," according to Chen.
The increase in the number of wild Asian elephants in recent years comes with more activity, and an overlap of animal habitats and places of human activities.
"Some rivers and valleys have been turned into farmland for rubber, tea, and corn for economic benefits. Infrastructure construction destroys the homes of wildlife animals," Chen said.
Home and food
From 1988 to 1993, the local government has invested about 4 million yuan (US$587,000) to relocate 195 households with 1,120 residents within the core areas of the nature reserve in Xishuangbanna.
In 2009, local authorities in the border regions of China and Laos signed an agreement to designate an area of about 55,000 hectares on the border to carry out joint wildlife protection and gradually expanded the zone to about 200,000 hectares.
This year, staff from the reserve have grown a total of 100 hectares of the elephant's favorite foods, such as bamboo and paper mulberry.
"The elephant canteens provide a safe place for elephants to munch on plants far away from villages where they might come into conflict with humans. Fewer elephants seek food in village crop fields now," said Wang Bin, a senior engineer from the nature reserve.
Since 2014, Yunnan has purchased commercial wild animal insurance covering the entire province. The government pays the premiums, and the insurers compensate victims when wild animals cause trouble.
Currently, more than 300 infrared camera and 40 monitoring sites have been set up in the reserve to provide complete coverage of the wild animal. Since last year, drones have been used to monitor the reserve as well.
Rescue on the way
According to Bao, wild elephants usually leave sick herd members near villages on purpose, counting on humans to save them. Most elephants in need of help are reported by local villagers.
"Some elephants were injured from accidents, like falling down a mountain, or involved in a fight; some were abandoned by their herd due to congenital diseases such as heart problems," he said. "Judging from their injuries and the situations on the ground, we deploy different rescue teams, sometimes even with a crane and a helicopter," Bao said.
"For every elephant at the center, we arrange two keepers to accompany them around the clock. They lead the elephants to the mountains every day to let them re-adapt to the wild," Bao added.
"Sometimes we invite foreign experts to our center to discuss medical solutions for the rescued elephants," Bao said.
In 2015, to save Yang Niu, an abandoned newborn elephant with an irregular heartbeat, umbilical cord infection, and other diseases, the center sought support from elephant experts in Thailand and detailed therapeutic plans after several group consultations.
"Healing the wounded and rescuing the dying shouldn't be restricted by borders," Bao said.
Another significant step toward protecting elephants came into effect Jan. 1, 2018: a new law stating it is illegal to process or sell ivory and its products in China, once the world's largest ivory markets. By the end of last year, all 172 ivory factories and shops in China had been closed.
After 13 years at the reserve, Ranran, once a dying female elephant caught by a steel trap, has mostly recovered, growing from 155 centimeters and 500 kilograms to 225 centimeters, 2,200 kilograms.
Her caretakers say she is shy and timid but actively participates in her daily training activities, preparing for her return to the rainforest one day. (Xinhua)