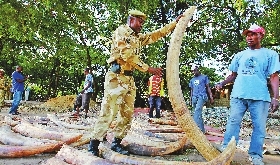 THE World Elephant Day was first celebrated Aug. 12, 2012, to "help conserve and protect elephants from the numerous threats they face," as stated on the official website. Since then, the day is commemorated annually to increase conservation efforts.
Elephants, found mostly in the jungles of Africa and Southeast Asia, are threatened in various ways, with the main two threats being loss of habitat and poaching.
The animals are mainly poached for ivory. The ivory from elephants is used to make jewelry, religious ornaments and items for decorative purposes.
Here are some facts about ivory and tusks that you probably didn't know.
The longest and heaviest ever recorded tusk was 138 inches (3.5 meters) long and weighed 314 pounds (142 kg).
In the black market, ivory tusks are sold at a rate that starts at US$1,500. Even though the sale of ivory has been banned in many countries, elephants are still hunted down and killed for it.
Elephants usually live up to 70 years of age. Estimates said there were about 5 million elephants in Africa a century ago. At present, the count stands at less than 1 million. According to reports, poachers kill at least 55 elephants a day in Africa for their tusks. Over 201,288 elephants have been poached since 2012.
(SD-Agencies)