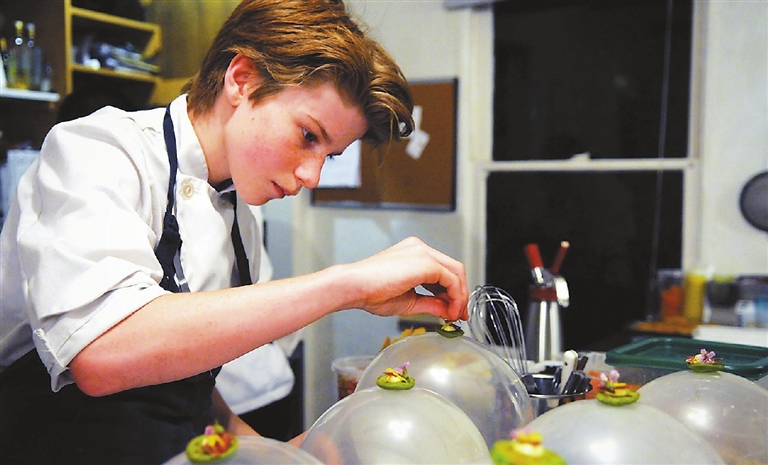 The latest innovative young chef to come along and shake up the food scene isn't some 20-something who just finished culinary school or wrapped up a stint studying in the kitchens of Le Bernadin or Per Se.
Rather, one of the newest restaurants earning buzz in New York City is helmed by a chef who is just 19 years old.
Yet despite him still being a teenager, Flynn McGarry is hardly a newcomer. In fact, he's been making headlines since 2012, when he was a 12-year-old cook nicknamed the "Justin Bieber of food."
Flynn's restaurant, Gem, opened on Manhattan's Lower East Side earlier this year, and already appears to be a success.
The New Yorker said that he "masters the rules of fine dining," and he's had write-ups in The New York Times, Eater, and Food & Wine.
Gem was recently reviewed for the first time by The New York Times, which called McGarry's cooking "nuanced" and his plating "lyrical," mentioning that he was "more polished as a chef than a restaurateur."
In addition to serving coffee and sandwiches during the day, Gem does dinner seatings with a US$155-a-head 10-course tasting menu.
Flynn not only runs the kitchen, but he's in charge in the dining room, too, and will often serve dishes himself.
The teen first took up cooking because, he said, he didn't like his mother's food. Though there are no hard feelings — and his restaurant Gem is her name, Meg, spelled backwards.
"It was after looking at all these cookbooks and going on the Internet and looking at these dishes that I thought, 'I could achieve that one day,"' he told ABC News in 2013, adding that he had his own copy of Thomas Keller's "The French Laundry."
He had first made headlines the year before in 2012, when, at age 13, he ran a pop-up restaurant of his own in Los Angeles.
Named "one of the country's hottest chefs," he turned his family's own home into the restaurant once a month — and even built a test kitchen in his bedroom so he could reach all the utensils he needs.
He'd also served an eight-course meal to 100 guests at John Sedlar's restaurant Playa in Hollywood, which sold out in advance.
He went on to intern for Grant Achatz at Next and Alinea in Chicago, and Modernist Cuisine's Food Lab in Seattle.
In 2013, Flynn was chef for the night at Beverly Hills' BierBeisl restaurant, where he served a 12-course US$160-a-head meal to a sold-out dining room of 40 people.
In 2014 and 2015, he was named among Time magazine's 25 Most Influential Teens. And by 2016, when he was 17 years old, he was competing on MasterChef Australia.
"People call me the Justin Bieber of food," he told News.com.au at the time. "I've stopped focusing on my age but it's obviously going to be something people talk about."
While on the show, he admitted that he hoped to have "at least one restaurant" in the next five or 10 years — and he's met his goal in record time. (SD-Agencies)