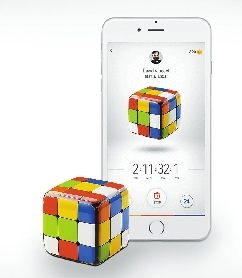 Israel-based startup* Particula has unveiled its spin on the Rubik's cube, dubbed "GoCube," which can connect to your phone and enables users to play against other people.
The GoCube syncs* up with smartphones and tablets using a Bluetooth connection and lets users play with friends across the world, according to Particula.
There are also mini-games and missions to solve cubes, some of which require you to use the cube as a controller.
All the games are available in the GoCube app, which can be downloaded on iOS or Android devices.
Particula has also created interactive guides for users who want to hone their skills.
Particula noted that the GoCube app breaks down algorithms* into mini-steps that are easy to follow.
The GoCube is packed with multiple sensors that allow the app to track every twist the user makes. An onboard Inertial Measurement Unit can also detect the cube's orientation. The cube's LED lights glow when the user solves it.
The GoCube is also priced at a prime to the original. It's expected to retail for US$69-119, while the original Rubik's cube only costs about US$10.(SD-Agencies)