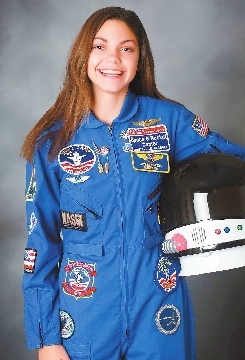 For U.S. teenager Alyssa Carson, seeing images of spacefaring* cartoon characters on television prompted a lifelong obsession.
In the year 2033 when Carson will be 32, she plans to soar off to the red planet, where she will help a Martian colony thrive. The 17-year-old girl, from Louisiana, has been obsessed with space from the moment she watched the cartoon "The Backyardigans," in which five animal friends go on imaginary adventures in their backyard, including a mission to Mars.
Carson spreads her message to her hundreds of thousands of followers across her various social media accounts and blog. She also attends seminars and other public speaking events to address her peers and encourages other youngsters, particularly women, to get involved in science, technology, engineering and maths.
She said: "I did the same thing as other kids, like switching my mind about careers, wanting to be a teacher or the president one day. But the way I always thought about it was I would become an astronaut, go to Mars, come back, and then be a teacher or the president."
While NASA* doesn't officially accept applications to become an astronaut until a person is 18, the agency is purportedly working with Carson to realize her ambitions.
As part of its long-term plans for the red planet, NASA has previously spoken of sending U.S. astronauts into orbit by 2033 and onto the planet's surface by 2039. The mission will include growing food, conducting science experiments and looking for signs of life.
Over the years, Carson has undertaken as much training as possible to prepare for her journey. Her dad enrolled her in the United States Space Camp in 2008, which she has attended several times since. She also ventured to others in Laval in Canada and Izmir in Turkey, eventually becoming the first person to visit all three NASA Space Camps at the age of 12.
During her training, she learned about microgravity and the effect on the body of losing oxygen.
In April she also attended an underwater course, to prepare her for the disorienting effects of space.
Most of her recent training has been conducted privately through Project Possum's Space Academy.(SD-Agencies)