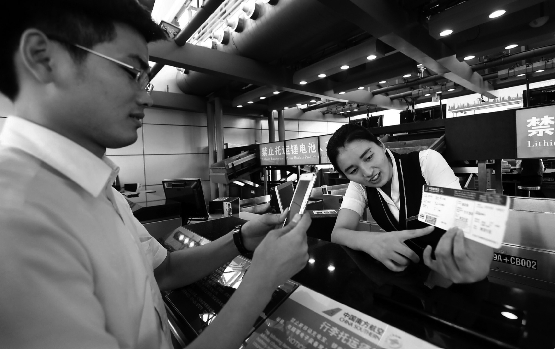 Han Ximin
ximhan@126.com
CHINA Southern Airlines yesterday officially launched an Internet Plus strategy that will offer all-round online services for air passengers.
As the pivot of the strategy, e-Travel, an app rolled out in 2016 by the company, now provides passengers with comprehensive online services ranging from booking tickets, selecting seats and reserving in-flight meals, to accessing flight information updates, and check-in and boarding services, after two years of continuous upgrades and innovations.
After passengers arrive at their destinations, they can use the app for guidance in claiming their luggage, getting an electronic receipt and reserving a car service.
"The e-Travel app has, to a great extent, satisfied the diverse and unique demands of customers and saved time for passengers," said Huang Wenqiang, deputy director of the General Commercial Steering Committee and senior vice president of the Electronic Division of China Southern Airlines, at a news conference in Guangzhou, Guangdong Province yesterday.
Statistics show passengers spend an average of 6 minutes in line at check-in counters to get a boarding pass, while using the app reduces the process to only 6 seconds.
At present, China Southern Airlines has introduced e-boarding services at 33 airports around the world with 180,000 passengers using the service every day.
Now the airline is offering a special escort service for pets, children, elderly people, and physically challenged and visual and hearing impaired people. Applying for the service online takes only one minute.
As for meal reservations, travelers can use the app to choose between seafood, fruit, diabetic-friendly, and vegetarian meals 24 hours before departure.
The reservations are available for all domestic flights operated by the airline. In the first six months of the year, the airline received a total of 78,000 reservations, five times the amount from the same period last year.
The app, and WeChat miniapp, also provide real-time flight updates. The app now has more than 30 million downloads and 2.3 million active users a day.
China Southern Airlines was the first airline to introduce e-tickets, DIY check-in and e-boarding services in China. In 2016, the company issued the first e-receipt, and in 2017, the company took the lead among the airline companies in China by introducing a facial recognition boarding system.
The e-Travel service is part of the airline's digital transformation strategy and the company's effort to be a world-leading airline.
"So far, the airline has accumulated a total of 300,000 facial features in its system, which has laid the foundation for the company to further improve its customized services. In the near future, VR, AI and Big Data technologies will be employed to provide better customer service," said Huang.