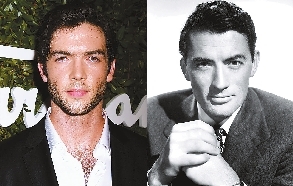 ACTOR Ethan Peck — whose grandfather was Hollywood legend Gregory Peck — has been cast as iconic half-Vulcan science officer Spock in CBS' "Star Trek: Discovery."
The hiring sees the relatively obscure 32-year-old boldly go where stars Zachary Quinto and Leonard Nimoy have gone before.
"Through 52 years of television and film, a parallel universe and a mirror universe, Mr. Spock remains the only member of the original bridge crew to span every era of 'Star Trek,'" executive producer Alex Kurtzman said in a statement.
The show launched in 1966 with a five-year mission "to boldly go where no man has gone before," and became a multi-billion-dollar cultural phenomenon, adored by fans the world over.
Peck — known for ABC sitcom "10 Things I Hate About You" — will be unveiled in the second season of "Star Trek: Discovery," due for release in early 2019 on the CBS All Access streaming service.
Known for his quiet dignity, Peck's grandfather was one of the great stars of Hollywood's golden era, starring in such classic movies as "Roman Holiday" and "Cape Fear." He died in June 2003 at the age of 87. (SD-Agencies)