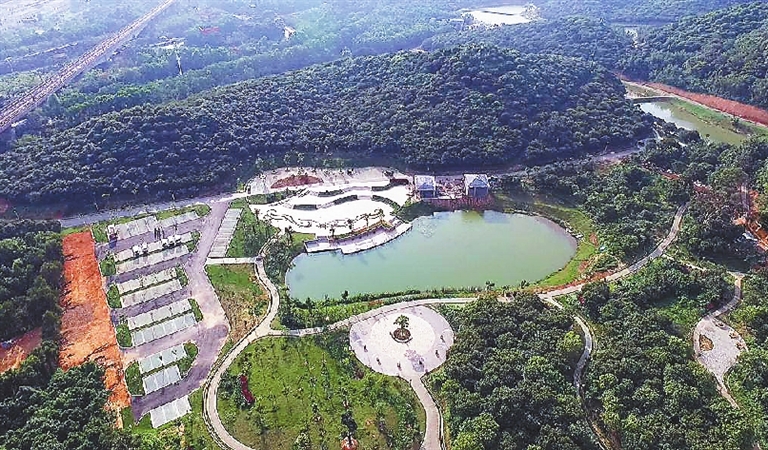 Luotian Forest Park, a new ecological park with the size of 610 soccer fields, recently opened to the public, offering an ideal place for sightseeing and mountain-climbing.
With eight lakes, 78 breeds of wildlife fauna, a reservoir, and groves of trees and fields, the park covers 436.07 hectares and takes around four hours to sufficiently explore. Located on the border between Shenzhen and Dongguan, the park was originally a tree farm established in 1958. After 60 years of growth, now the park not only functions as a leisure site but also is an ecological protection base.
Rich with biodiversity, the park has tung trees, litchi trees, camphor trees, lotus flowers and maple trees. This year, sakura trees have also been planted and next spring, visitors may admire a valley of snowy sakura. Infrastructure such as street lamps, a nature science education center and new bridges are still under constructions and there are 24-hour patrol cars inside the park. Visitors are suggested to bring water when visiting the park since there are no convenience stores within.
Venue: Luotian Forest Park, Songgang, Bao'an District (宝安区松岗罗田森林公园)
Metro: Line 11 to Songgang Station (松岗站), Exit G and then take bus M291 to get off at Yanjing Market (燕景集贸市场) and then take bus M260 to get off at Longqiaohua Industrial Park (龙侨华工业园)
(Cao Zhen)