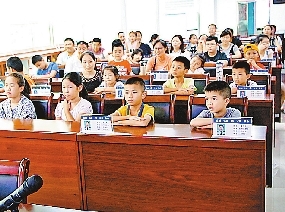 TO help children gain a better understanding of their parents' daily routines as community safety inspectors, on Aug. 8 the grid comprehensive management center in Songgang Subdistrict launched an activity for more than 20 left-behind children from across the country, the Bao'an Daily reported.
On the day, the children were led to their parents' respective grids in the subdistrict to experience the work of a community safety inspector. They went door to door to collect relevant information from tenants.
An 8-year-old girl identified as Siyi was a bit nervous at first. After a while, she became familiar with the process. She said that although going from building to building to visit the tenants was tiring, it was worthwhile because the work could bring peace to the community.
"This is the first time that I've been to my father's workplace. I thought my father was working in an air-conditioned room and didn't expect his work would require climbing up and down so many flights of steps every day," said a boy identified as Haibin.
China has rolled out a nationwide system of social governance known as "grid management" in recent years. Small police booths and networks of citizens have been set up block by block to reduce neighborhood disputes, enforce sanitation and keep an eye on any potential troublemakers. (Zhang Yu)