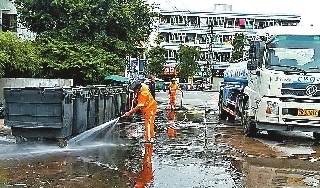 ON Aug. 10, the Xinqiao Subdistrict Office in Bao'an District launched a special operation to improve the urban environment in 100 days with contributions from all departments, according to the Bao'an Daily.
Details of the operation were announced at a work conference gathered on Aug. 9. The work conference announced the latest urban environment ratings for all of the communities and assigned tasks to the various departments.
All of the departments of the communities within the subdistrict were assigned specific tasks to assess the urban environment at venues, such as markets, public restrooms and construction sites.
The subdistrict also ordered each department to map out the daily, weekly and monthly to-do-lists so that the implementation of the inspection work is thorough.
Video footage shown at the start of the conference displayed the chaotic urban space near markets, public restrooms and dumping sites. Wei Shuqiang, Party chief of Xinqiao Subdistrict Office, pointed out that the video footage shows a lot of real problems.
"Persistence is the only thing that can help carry out responsibilities in a thorough way," said Wei. He ordered all departments to stick to their posts and inspect the places where chaos is often found.
In particular, the head of each department was appointed the chief person in charge for the 100-day operation.
Meanwhile, a supervision team was set up to supervise the inspections carried out by each department. A weekly report will be made to assess each department's work over the previous week.
Apart from government departments, the subdistrict office also requires sanitation companies and businesses to ensure the quality of the urban environment, especially around markets, public restrooms and dumping sites.
Punishment will be imposed on those who overlook their responsibilities in maintaining order and tidiness at the public venues. (Cindy Zhang)