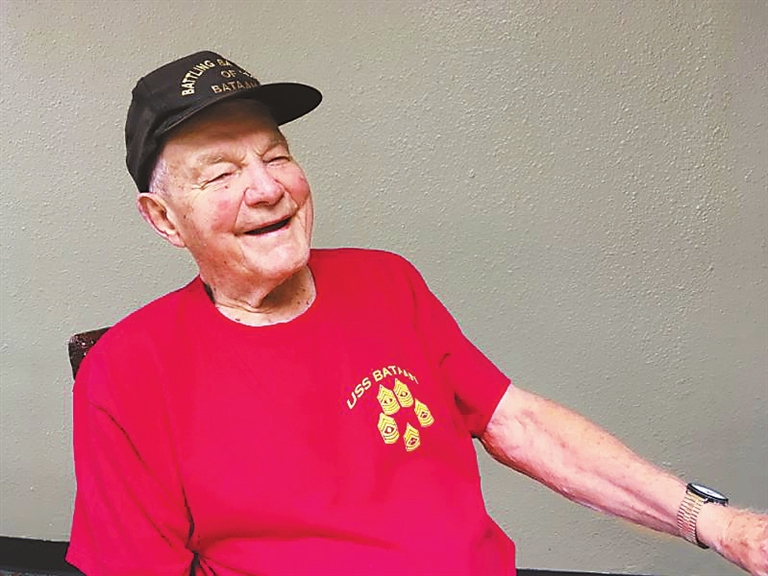 U.S. Army Air Corps veteran Daniel Crowley endured more than three years of slave labor while being held prisoner by Japan during World War II.
This week, the 96-year-old participated in a dedication in Hawaii that honored about 400 Allied prisoners killed when a Japanese ship transporting them to Japan from the Philippines was sunk by U.S. forces unaware they were on board.
The men are in 20 separate graves marked as "unknowns" in the National Memorial Cemetery of the Pacific, which is located inside an extinct volcanic crater also known as Punchbowl.
Dozens of relatives of Allied servicemen who were killed in January 1945 as prisoners of war (POWs) held by Japan dedicated a memorial stone to their loved ones.
They were buried in a mass grave at a harbor in China's Taiwan, but the U.S. military dug them up and reburied them in Hawaii after the war.
On Wednesday, Crowley helped dedicate a memorial stone to the prisoners at the cemetery in Honolulu.
"These are men from the United States Armed Forces who were ignominiously thrown in a pit without marking by the country, our country," Crowley said.
"It was a sad thing that they were never recognized before they were buried together in a mixed-up grave with no marker."
The men were on board the Japanese freighter Enoura Maru in what is now Kaohsiung, China's Taiwan, when planes from the USS Hornet aircraft carrier bombed it Jan. 9, 1945.
The Enoura Maru hadn't been marked as having POWs on board so the pilots didn't know they were attacking some of their own.
The 400 were buried in a mass grave near the harbor. The U.S. military retrieved the remains in 1946 and sent them to Hawaii for burial.
The group includes not just Americans but also Australians, Canadians, British, Norwegians and citizens of what is now the Czech Republic.
Crowley, who lives in Simsbury, Connecticut, is familiar with some of their ordeal as he experienced a version of it himself.
The Army shipped him to the Philippines in 1941 after he enlisted as an 18-year-old in Greenwich.
It was a tropical paradise at first, he said, until Japan attacked in December.
The Army gave him and his fellow soldiers little to no training and equipped them with World War I-era rifles.
By April, his commanders surrendered thousands of U.S. forces at Bataan. Crowley escaped to Corregidor Island, where he fought alongside U.S. Marines for another month. This time, he was taken into Japanese custody and paraded down the streets of Manila.
Eighteen months of brutal labor building an air strip on the Philippine island of Palawan followed.
"If you didn't move it, you were beaten immediately. Nothing was held back. They'd swing for your head with a pickaxe handle," he said.
Each prisoner would get about 600 calories worth of food a day — just enough to keep them alive, he said.
Crowley's ship took 17 days to reach Japan from the Philippines after taking a circuitous route to avoid attacking U.S. planes.
The conditions on the ships transporting prisoners to Japan were so horrific the Americans called them "hellships."
Crowley recalls being held below deck in such cramped conditions he could only squat — not lie down or stand. The prisoners had to defecate and urinate where they were, leaving their waste to cascade down to platforms below where more prisoners were held.
"You were showered constantly," he said.
Their captors lowered rice to them once a day in a bucket that had earlier held excrement. The prisoners had to reach into the bucket for their share. Sometimes the men fought.
"Some men lost it completely and sank their teeth into the nearest person for liquid. They wanted a drink. There was no water ration," Crowley said.
Each day they'd collect those who had died and throw them over the side of the ship. That was actually a good job to have, Crowley said, because it meant you could get fresh air.
"It's hard to really describe in graphic enough detail for mixed readers of a family newspaper," Crowley said.
Once in Japan, Crowley spent the rest of the war working in two different copper mines.
After the war, he found a stigma followed those who had been prisoners of the Japanese military. Major companies wouldn't hire them. His older brother told him not to tell anyone he was a POW.
"They felt you couldn't be mentally balanced if you had been through this nightmare," he said. Crowley made a living in sales by commission.
He counts himself lucky to have survived. Many others didn't make it — especially in the first six months after they were surrendered in the Philippines.
"I had a tenacious desire to live, I guess," Crowley said. "I was going to beat it. I was going to get home."
Crowley was born May 29, 1922 and raised in Greenwich, CT. He enlisted in the U.S. Army Air Corps in Hartford on Oct. 7, 1940. In March of 1941, Crowley arrived in Manila, the Philippines, where he was stationed when Japan struck Pearl Harbor on Dec. 7, 1941.
Eighteen hours later, his ordeal began when his air base near Manila was hit by the Japanese in their quest to gain access to resources in the British and Dutch colonies of Southeast Asia.
With the destruction of the entire air fleet in Manila, Crowley became a Private in the US Army Infantry.
Within a couple of weeks, Crowley was headed for the peninsula of Bataan, where disease and starvation took the lives of thousands.
Crowley, with both American and Filipino troops, held off the Japanese for several months before General Edward King surrendered April 9, 1942.
Despite this, Crowley and a small brigade of U.S. Marines, 4th Regiment, under the command of General Jonathan Wainwright, continued to fight on the island of Corregidor until May 6, 1942, when he too was officially surrendered, a day Crowley calls the "worst disgrace" for U.S. troops and the beginning of his nearly four years as a POW.
His parents were notified of his POW status by way of a postal telegraph.
Crowley was sent to Camp O'Donnell, where over 22,000 American and Filipino POWs died from disease and starvation.
He was later transferred to Camp Cabanatuan and then to a slave camp in Palawan where he helped build an airfield in the blazing sun with little clothes, no hat nor shoes.
Half the prisoners died there, and if it were not for an American doctor's convincing diagnosis that he was mentally unfit, Crowley would have been returned to the camp and burned alive with the remaining prisoners at the airfield.
Next, Crowley was shipped to Japan where he worked 600 meters down in an ancient copper mine until Aug. 14, 1945 when Crowley recalls, "The Japanese admitted that we got their attention."
On that day, Emperor Hirohito announced Japan's acceptance of the terms of the Potsdam Declaration surrendering Japan.
While the emperor was speaking, prisoners were not allowed to work. That day began what Crowley calls the "year of freedom." Crowley was liberated Sept. 4, 1945, after the bombing of Hiroshima and Nagasaki. He took a slow boat back to the United States in October 1945 and was discharged from the U.S. Army in April 1946 in Massachusetts.
After discharge from military service, Crowley became an insurance agent, married, and raised a son and daughter with his wife Marie in Simsbury. Marie Crowley passed away in February 2012 after 67 years of marriage.
Crowley continues to serve his country and community by sharing his story and ensuring that we honor and forever hold in our memory the brave men who did not return from war.
His most recent efforts to recognize those with whom he served was advocating for the state legislature to name the bridge on Route 185 in Simsbury the "Bataan Corregidor Memorial Bridge" in memory of those soldiers who fought alongside Crowley and who lost their lives at the Battle of Bataan and the Battle of Corregidor.
(SD-Agencies)