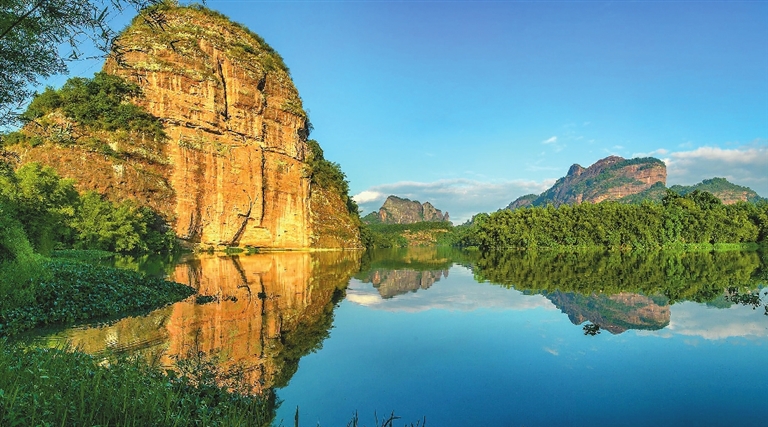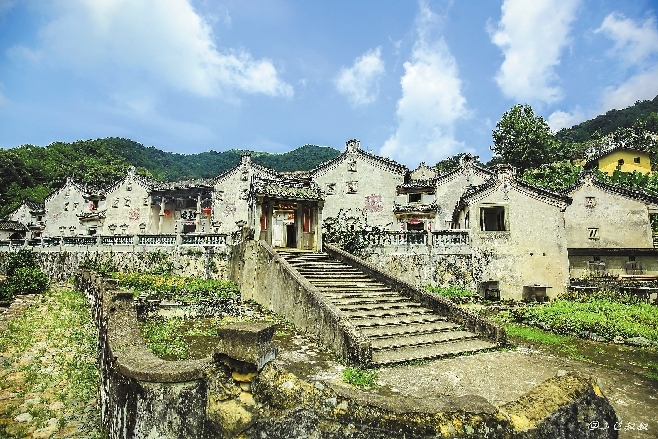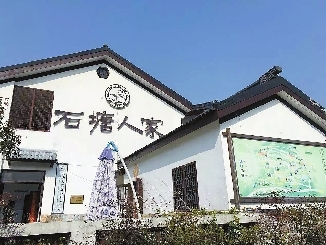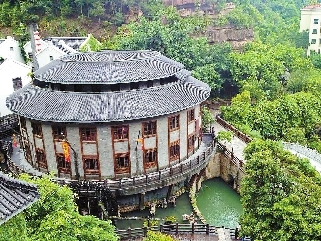 FOR itinerants who love roving around, the most beautiful scenery is always on the road. Recently, the Guangdong Provincial Tourism Administration and the Guangdong Provincial Department of Transportation jointly issued the first "Top 10 Beautiful Highways in Guangdong." Major roadways in 10 cities including Guangzhou, Zhuhai, Shantou, and Shaoguan stood out, which connect many famous scenic spots in the province.
Let's hit the road and enjoy the horizons, where the sea and the sky merge into one, breathe in fresh air with high concentrations of anions, and feast our eyes upon primitive forests in full color and other natural wonders.
Shaoguan: Home to the unique Danxia landform
This 160-kilometer route travels through the following five sections: the section between Renhua and Huanggang of provincial expressway S246; the section between Danxia Mountain in Renhua County and the exit of Danxia of S10 on national expressway G106; the section between the exit of Danxia in Renhua County and Xiaoguan Yuan on G323; the section between Wantou and Guitou in Shaoguan on G323; and the Danxia tourist area.
This route features Danxia landform, rivers and ancient villages. Recommended tourist attractions include Shitang Ancient Village, Danxia Mountain Scenic Area, Lingxi River Forest Park, and Wumazhai Ecological Garden.
Located in a picturesque basin 20 kilometers to the northwest of Danxia Mountain, a natural World Heritage Site, 650-year-old Shitang Village in Shaoguan is surrounded by mountains on three sides with a crystal-clear brook flowing through it. It is said that there are many fishponds in this area and in every fishpond there is stalagmite, hence the name of the village — Shitang (stone pond).
During the reign of Emperor Xianfeng (1850-1816) in the Qing Dynasty (1644-1911), Shitang Village had already developed into a well-known village with 1,000 households. Now the time-honored village is the largest natural village in Renhua County, Shaoguan City, as well as one of the most intact ancient villages with ancient houses, alleys, customs and cultures.
Also called the Redstone Park of China, Danxia Mountain in Shaoguan in north-central Guangdong is a world-famous geological park. China has the world's largest area of Danxia, or redstone geomorphology, the majority of which is found on this mountain. Covering an area of 292 square kilometers, Danxia Mountain is situated in an intermountain basin in the south of the Nanling Mountain range.
Heyuan: A green paradise
This 33-kilometer route starts from the Yinke Bridge of Dongjiang Bay in Yuancheng District and ends at Wanlyugu Resort in a section of Guishan Travel Channel. This route features highways along the lake, picturesque scenery around Wanlyu Lake, Hakka culture and hot spring culture.
Recommended tourist attractions include the Bavaria Manor, Ketianxia Hot Spring, Xinfeng River Dam, Yequ Valley, Guishan Mountain, Wanlyu Valley, Wanlyu Lake and Jinghuayuan Scenic Spot.
Located in Yuancheng District, Bavaria Manor occupies a mountainous area of 10 square kilometers, of which two square kilometers are a water area. It's home to hot spring resort hotels, the Fuyuan Temple built in Hakka Tulou, modern farmlands, a Eurasian market and more.
Wanlyu Lake is a national park with a lush forest and spectacular mountains. With a 370-square-kilometer water area, the lake is a protected water resource. The lake's water is slightly alkaline with a balanced composition of minerals.
Facing Wanlyu Lake, Guishan Mountain is the highest mountain in Heyuan. With evergreen trees, it's nicknamed "vegetable kingdom," "animals funland" and "tourist paradise."
Meizhou: A relaxing Hakka city
This 30-kilometer route starts at Xiulan Bridge of the provincial expressway S223 in Meixian District and ends at Changjiao Village.
Recommended tourist attractions include Xiulan Bridge, Ye Jianying Memorial Park, Yanming Lake Holiday Resort, Lingguang Temple, Yearning Tea Plantation Tourist Attraction and Qiaoxi Village.
Ye Jianying Memorial Park, a national red tourism attraction in China, is located in Huxing Village, home and former residence of Marshall Ye Jianying, a well-known Chinese Communist general. The park is divided into four functional areas: a culture area, a memorial area, an ecological forest area, and a tourism and leisure area.
Yanming Lake Holiday Resort, a sightseeing and vacation destination, is located in one of the hometowns of the Hakka: Meizhou.
Up till now, three main scenic spots have been completed, namely, Chunhui (meaning "light of spring") Garden, Xiaxiao (meaning "daybreak of summer") Garden, and Qiushi (meaning "harvest in autumn") Garden. Surrounded by lush hills and with clear-crystal water flowing in the lake, the resort is fully equipped.
Yearning Tea Plantation Tourist Attraction, the first National 5A Tourism Destination in the east of Guangdong, is situated in the hometown of Marshall Ye Jianying. It is home to over 2,000 tea plants and 14 villas.
Inside the attraction you will find Weilong Hotel, Weilong Restaurant, Tea Art House, Xiancha (meaning "fairy tea") Pavilion, swimming pools and tennis courts, among which Weilong Hotel with its excellent construction work was awarded the Luban Prize (a national construction engineering prize) in 2005. (Chen Xiaochun)