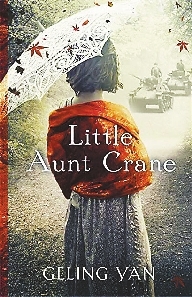 《小姨多鹤》
In this novel, author Yan Geling explores a period of Chinese history which is little known in the West as well as the fate of the Japanese who had been encouraged to colonize Manchuria before the Second World War.
At the end of that war, Japanese villagers in Manchuria find themselves facing the advancing Chinese army alone. Some immediately run back to Japan, but others left behind commit mass suicide* rather than become captives*.
Sixteen-year-old Tatsuru, who chooses life over honor, is captured by human traffickers* and sold to the Zhang family. She becomes Duohe, bought to give birth secretly to the children that only-son, Zhang Jian and his wife Xiaohuan, are unable to have themselves.
Her relationships with Zhang Jian and his wife are complex and changing, her fertility* both a blessing and a curse for Xiaohuan. Zhang is torn between gratitude to Tatsuru for giving him his children and his love for his fiery but increasingly distant wife. Over time, Xioahuan and the Japanese woman slowly reach an understanding. A strange kind of friendship is born. They become co-mothers of the children and formidable* when they join forces in any disagreements with Zhang.
Against the backdrop of a different China after 1949, Yan takes a great sweep of history and boils it down to an intensely personal story. Both Chinese and English versions of the book are available at online bookstores.
(SD-Agencies)