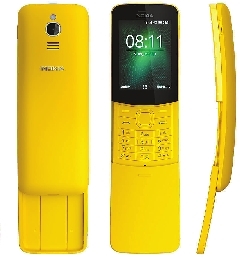 诺基亚"香蕉机"4G版破土重出
Nokia's 8110 "banana phone" is about to hit the shelves. The firm released the 8110 recently, more than five months after the revamped retro phone was first unveiled.
HMD Global, the Nokia brand licensee*, has brought back a few classic Nokia feature phones in the past year, including the beloved 3310. Now, the firm is giving the classic "banana phone," made famous by "The Matrix," a new lease on life.
The company has confirmed a price of US$87 for a SIM-free* version. The updated phone features 4G support, 25-day battery life and the iconic game "Snake."
HMD first announced that it was issuing a revamped* 8110 at technology trade show Mobile World Congress in Barcelona earlier this year.
HMD chief executive Florian Seiche said the company wanted to create a unique identity for the brand and the range of new devices was to expand and refresh the Nokia portfolio*.
The revamped 8110 is, like the original, curved to fit the shape of the face and has a snap cover that is used to unlock the phone or answer calls. Instead of being black and white, the screen is now color.
Using HMD's Smart Feature OS, the phone can handle a selection of apps including Facebook, Mail for Exchange, and Snake.
Nokia also announced a series of new handsets, including the entry-level Nokia 1, mid-range Nokia 6 and 7 Plus and a new version of its flagship Nokia 8 called "8 Sirocco."
The Nokia 8 Sirocco, comes with a 5.5-inch curved 2K OLED* display as well as dual rear cameras and wireless charging.(SD-Agencies) Nokia 8110