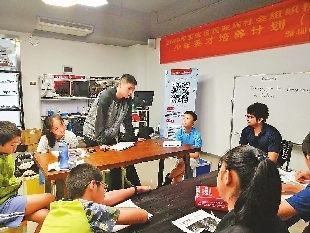 《阅读与辩论》课举行暑假最后一次辩论
Recently, the English program "Reading and Debate" hosted by Bao'an Foreign Language Association held its last competition for the summer season.
Each round of the competition consisted of opening statements, rebuttals, free debate, and closing statements made by each side. The pro side first gave their opening statement to state their view, followed by the con side.
Chen Hongyi served as the team leader of the pro side, backed by teammates Fang Heng, Zeng Kai and Wan Yijun. On the pro side, Shen Haoyu served as the team leader and his teammates were He Dong, Chi Lin and Li Zaidan.
Participating in a debate requires on-the-spot improvisation, logical thinking, an aptitude for language organization, the ability to quickly process information and the application of other skills of the debaters.
"Reading and Debate" is an important program sponsored by Bao'an Civil Affairs Bureau to cultivate young talents. The program is held by Bao'an Foreign Language Association and co-organized by Bao'an Science and Technology Hall. (Chen Xiaochun)