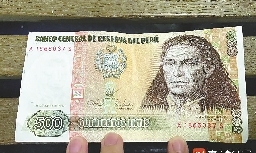 A TOURIST from Chong-qing Municipality recently was swindled by a taxi driver while traveling in Hong Kong, as she was given a withdrawn Peruvian banknote for change, the Southern Metropolis Daily reported Thursday.
The tourist, identified as Xiaoyu, said it happened when she and her parents took a taxi from Mong Kok back to their hotel in Tsuen Wan on the second night they were in Hong Kong.
The male driver was about 60 years old and spoke Cantonese. After they arrived at the hotel, Xiaoyu gave the driver a HK$1,000 (US$127.39) banknote and received a 500-inti Peruvian note.
It was dark inside the taxi, and she didn't pay much attention to the change as they were in a hurry to get out. However, when she entered the hotel lobby, she found that she had been cheated and the driver was already gone.
The inti was the currency of Peru between 1985 and 1991, and was replaced by the new currency called the sol in 1991. Inti notes and coins are no longer legal tender in Peru, nor can they be exchanged for notes or coins of the current Peruvian currency.
It has been reported that there were nearly 20 fraud cases involving outdated Peruvian banknotes in eastern China in 2015 alone.
(Zhang Yu)