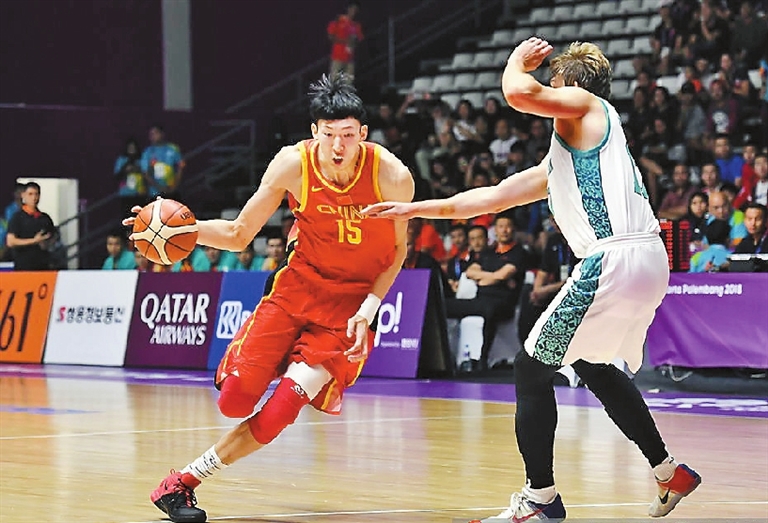 THE Chinese men's basketball team beat Kazakhstan 83-66 in the preliminary round of the 2018 Asian Games on Thursday to enter the last eight.
Because of the turnovers Chinese players made, Kazakhstan once took a lead of 37-36 by the end of the second quarter. Then, the players pulled themselves together and bounced back with a 31-12 in the third quarter.
Liu Zixuan hit four of his five three-point attempts and scored a game-high 18 points.
The Chinese women's basketball team also advanced to the last eight, crushing Hong Kong 123-31 .
China dominated this one-sided match as the side took a double-digit lead after first five minutes, Hong Kong had no chance to cut the deficit, only scored nine points in the last two quarters.
Han Xu, who bagged a game-high 28 points and 10 rebounds, said after the match: "We have improved a lot. Our goal in preliminary round was to make better preparations to meet later competitive rivals, like Japan and the Unified Korea team."
China's medal tally hit 100 in the middle of the fifth day of competition Thursday, with more than half of them — 51 — gold. At the same time, after 132 finals, Japan was in second with 20 gold medals and 73 overall.
China didn't feature in the road race but dominated in the rowing, winning six of the first eight finals.
The streak of gold for China was broken initially only by Uzbek pair Shakhboz Kholmurzaev and Shakhboz Abdujabborov, who won the double sculls, and the Vietnam crew of Ta Thanh Huyen, Luong Thi Thao, Ho Thi Ly and Pham Thi Thao in the lightweight women's quadruple sculls.
Jacqueline Siu won Hong Kong's first gold medal of the Games with victory in the individual dressage competition at the Jakarta International Equestrian Park.
The England-based Siu and her horse, JC Fuerst On Tour, held off Malaysia's Qabil Ambak and South Korean rider Kim Hye-ok.
It was her first medal in four trips to the Asian Games, her previous best being fourth-place finishes in 2006 and 2014.
Four of the six wushu gold medals in the sanda discipline went to China as well, with Iran collecting the other two via Erfan Ahangarian in the 60-kilogram division and Mohsen Mohammadseifi winning the 70-kilogram class.
Meanwhile, Alexey Lutsenko left it late in the road race before surging to the finish in a desperate four-way sprint to edge Fumiyuko Beppu for Asian Games gold.
The Kazakh rider, who placed ninth at last year's world championships, finished the scenic 145.5-kilometer course at Subang in West Java in 3 hours, 25 minutes and 25 seconds.
(SD-Xinhua)