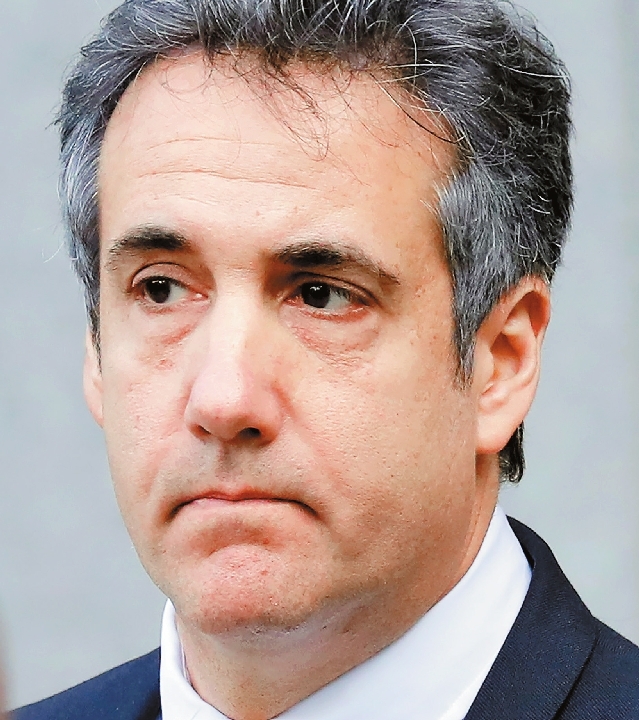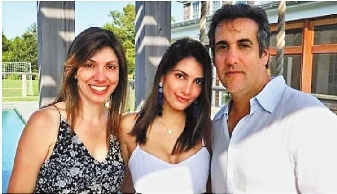 ONE year ago, Michael Cohen, the longtime lawyer and fixer to Donald Trump, pledged he "would take a bullet for the president."
On Tuesday, that once-deep loyalty melted away when Cohen stunningly implicated the U.S. president in two felony crimes as he pleaded guilty to charges of bank fraud, tax fraud and campaign finance violations.
It was a huge takedown for the brash New Yorker, who tied the last decade of his career personally to Trump.
Cohen's plea agreement and the details it revealed pose a direct threat to Trump, perhaps one even more damaging than the separate special counsel investigation examining whether the president's campaign coordinated with Russia to sway the 2016 election.
Cohen, 51, a one-time personal injury lawyer who accumulated a small fortune in Manhattan's shady taxi badge industry, bought real estate in a Trump building and eventually worked his way into an office right next to the billionaire's in his eponymous 5th Avenue skyscraper.
As personal lawyer to one of New York's richest property magnates and an executive vice president of the Trump Organization, he handled numerous business deals inside and outside the United States for his boss, as well as fixing some of the future president's more seamy problems.
Left on the wayside when Trump moved triumphantly into the White House, Cohen made a business out of his personal contact in the Oval Office and swore his allegiance, fighting to protect Trump's reputation.
"I'm the guy who stops the leaks. I'm the guy who protects the president and the family. I'm the guy who would take a bullet for the president," he told Vanity Fair in September 2017.
Cohen hardly seemed headed for life as a tough-talking "fixer" growing up in an upper-middle-class town on Long Island. He attended a yeshiva day school, and then elite Lawrence Woodmere Academy.
His father, a physician, was a Polish-born Holocaust survivor; his mother was a nurse. Cohen described himself as an "agnostic Jew."
As a teenager in the 1980s, he dated Ukrainian emigre Laura Shusterman. Cohen often visited her home in Queens, and he also visited friends in Brooklyn, where Soviet refugees had settled in Brighton Beach and Sheepshead Bay.
"He grew up in a homogenous, wealthy enclave, and he came to a radically different place, Brighton Beach, on the border of Coney Island, which was filled with immigrants and minorities," said a longtime Cohen friend.
The Soviet emigres were "tough kids," and there was a "lot of friction between the Italian and Russian gangs," the friend said. Cohen emulated them. He later learned to speak Russian "like a 4-year-old," Cohen told The Washington Post in an interview last year.
Laura's father, Fima Shusterman, who was in the notoriously rough-and-tumble taxi business in the Big Apple, pleaded guilty in 1993 to fraud charges. Cohen married Laura the following year. He befriended a number of emigres from Russia and Ukraine. Among them was Russian migrant Felix Sater, who years later would work with both Trump and Cohen on efforts to develop Trump-branded real estate in Russia and elsewhere.
Cohen earned his law degree from Western Michigan University's Cooley Law School, one of the lowest-ranked law schools in the country.
Cohen was drawn to politics, first as a Democrat volunteering for the 1988 presidential campaign of Michael Dukakis and then as a Republican, losing a 2003 bid for city council.
Making money was another Cohen goal. His role model was Trump, whose first book, "The Art of the Deal," had inspired him. "I've been admiring Donald Trump since I was in high school," Cohen told ABC News.
He invested in the taxi business, for a time managing a fleet of 200 cabs.
Before going to work for Trump, he also invested US$1.5 million in a Florida casino boat with two Ukrainian emigres, but the project flopped.
As a property investor working with his Russian and Ukrainian contacts, Cohen's name was attached to multiple deals worth tens of millions of dollars.
He could flip property so quickly that it raised eyebrows over what and who was really behind the trades, the New York Times reported.
His investments in Trump properties proved more secure. Cohen bought his first property in a Trump building — Trump World Tower near the United Nations — in April 2001, paying US$1 million for a condominium that sold 16 years later for US$5 million.
Cohen met Trump in the late 1990s at a political fundraiser. It was a real estate brawl that cemented their bond.
In 2006, Cohen took Trump's side in a dispute at Trump World Tower, where some condominium owners wanted to oust Trump from managing the property, according to people familiar with the dispute. Cohen, as a unit owner, vocally sided with Trump, who prevailed.
"When Michael won that fight, that's when Trump gained a lot of respect for him," said Cohen's lawyer and longtime friend David Schwartz.
That led to an extraordinary leap in Cohen's career. Trump hired him as special counsel and executive vice president of the Trump Organization.
In the following decade, Cohen handled all manner of problems for his boss that could not be solved through traditional channels. Cohen, according to a former associate, employed Trump's tactics of threats and lawsuits, relying on tough-guy language.
Describing his methods to ABC News, he said that "if somebody does something Mr. Trump doesn't like, I do everything in my power to resolve it to Mr. Trump's benefit. If you do something wrong, I'm going to come at you, grab you by the neck, and I'm not going to let you go until I'm finished."
Just days before the election, Cohen paid US$130,000 to porn star Stormy Daniels to keep quiet about her past with Trump.
He was also involved in buying the rights to the story of Playboy model Karen McDougal for US$150,000 about her alleged affair with Trump.
Those actions, which involved shell companies and offshore entities controlled by Cohen, got him into legal trouble over banking, tax and campaign finance laws.
Cohen initially said he used his own money to pay Daniels and was not reimbursed. Trump, who first denied knowing anything about the payment, has since conceded that Cohen was paid back.
When Trump won the presidency, Cohen seemed in position for a coveted spot in the senior ranks of the White House.
At one point, Cohen topped a list of five candidates for White House counsel, according to documents reviewed by The Washington Post. He suggested to some Trump allies that he might make a good chief of staff.
But when Trump built his West Wing team, Cohen did not make the cut.
Some in Trump's inner circle worried about blowback from Cohen's associations and unorthodox tactics in fixing the New York developer's problems.
Cohen's allies suggested in recent weeks that the Manhattan lawyer felt abandoned by the president as he faced a federal investigation of his personal finances.
A 45-minute off-camera interview with ABC News's George Stephanopoulos published Monday represented a distinct escalation.
Reminded that he had previously vowed to "take a bullet" or "do anything" to protect the president, Cohen said Trump is not his top priority: "To be crystal clear, my wife, my daughter and my son, and this country have my first loyalty," he said.
Cohen complained to friends last month that Trump refers to their relationship in the past tense and that he is being forced to pay his own legal bills.
Cohen's case became an embarrassment and a threat to Trump. Trump declared early on that the investigation was all about Cohen's private business, nothing to do with him.
It also emerged that after Trump became president, Cohen actively marketed his access to the president. He earned some US$2 million from companies like AT&T and Novartis, while pitching himself as "personal counsel to President Donald J. Trump."
He further angered Trump in July when, according to reports, he told investigators that the U.S. president knew in advance of a June 2016 meeting in which Russians were expected to share dirt on then-election rival Hillary Clinton.
Trump denied in a tweet that he knew of the meeting. "Sounds to me like someone is trying to make up stories in order to get himself out of an unrelated jam," Trump said.(SD-Agencies)