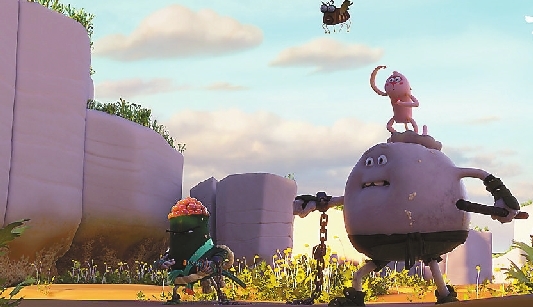 CHINESE studio Yi Animation had high hopes for its first feature film release, "Kung Food," an adaptation of a popular children's TV series about an adventurous steamed dumpling.
But after the animated film opened to just US$420,000 over the Aug. 17 weekend — after costing US$12 million and more than half a decade to develop and produce — the company and its partners resorted to desperate action. On Monday, the film was pulled from cinemas, with the director posting an apology to social media, saying he would make changes to improve the film and attempt to release it again.
"Kung Food" opened on a crowded weekend, facing off against the debut of Sony's big-budget animated feature "Hotel Transylvania 3: Summer Vacation" as well as Warner Bros' holdover giant shark hit "The Meg" and Chinese blockbuster "The Island."
The title was marketed and distributed by Beijing Culture, a local studio which has been on a two-year hot streak. The company was one of the lead producers of "Dying to Survive," China's biggest hit this summer, as well as the 2017 mega-blockbuster "Wolf Warrior 2."
"Pulling the film was a mutual decision between the production company and distributor," wrote Sun Haipeng, director of "Kung Food," in his apology post. "We only hope that after many years of effort, our film will be seen by more audiences. We will upgrade the film during this period of time, and when it is released again, everybody will see a more complete and better work."
"Asura," the Alibaba-backed fantasy epic now known as China's biggest flop ever, opened to a disastrous US$7 million in July. It was produced at a cost of over US$110 million. Producers had to pull the film and allege that its release had been sabotaged. A representative for Zhenjian Film, the movie's lead producer, later told media that changes would be made to the movie and it would eventually be rereleased.
Unlike "Asura," which features a boldly original story set in a mythical realm based on buddhist mythology, "Kung Food" was a big-screen take on an established piece of IP. The "Kung Food" television series has been broadcast on 120 Chinese TV channels as well as online platforms. (SD-Agencies)