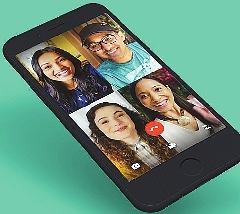 WhatsApp has launched a group video call feature for its popular chat app.
Android and iOS users are able to make four-person video or voice calls with contacts across the globe.
To start a group video call in WhatsApp, users will need to first launch a one-on-one call with a single contact.
To do this, open the text conversation with the contact you want to video call and tap the camera icon at the top of the screen. As soon as the call is established, users can add up to two more people using the button in the top right-hand corner of the interface.
This brings up a screen where users can search for or select another contact to add to the call. If prompted, tap the "Add" button next to the name of the person.
The ability to make voice and video group calls is slowly rolling out across the world, so don't panic too much if the update hasn't dropped on your device just yet.
Group calls are end-to-end* encrypted*, just like messages, documents, photos, and videos transferred on the platform.
The ability to make video calls in WhatsApp was first launched in 2016.
According to the company, WhatsApp users worldwide collectively spend around 2 billion minutes a day making voice and video calls.(SD-Agencies)