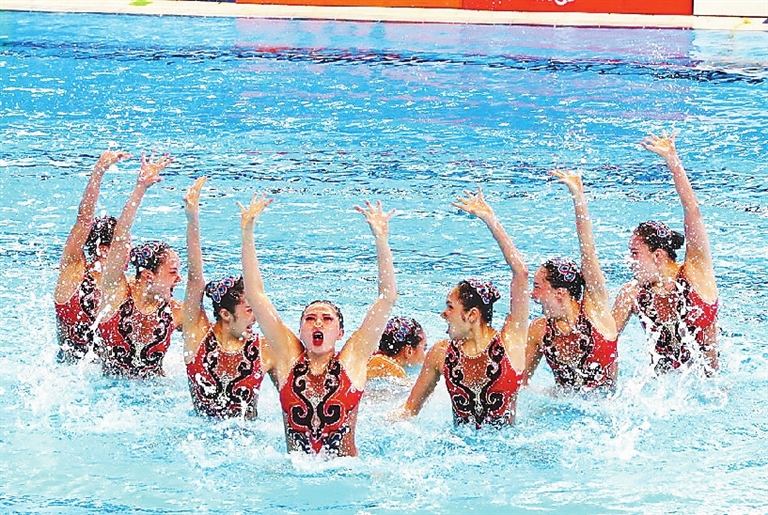 DEFENDING champion China retained the team artistic swimming title for the fourth time, also earning the 100th gold medal for team China at the Jakarta Asian Games yesterday.
China wrapped up two gold medals on offer at the Asiad as twin sisters Jiang Wenwen/Jiang Tingting won their third Asian Games title in the duet event Tuesday and altogether six golds overall.
China has swept all 10 gold medals on offer for the sport since 2006.
Meanwhile, Japanese teenagers Sakura Yosozumi and Kensuke Sasaoke provided a next-generation entree to the 2020 Tokyo Olympics with gold medals at the Asian Games in skateboarding.
The 16-year-old Yosozumi, an X Games and Park Series Pro Tour medalist, won the women's park final at Jakabaring Sport City in Palembang, which is co-hosting the Asian Games with Indonesian capital, Jakarta.
She beat Japan teammate Kaya Isa, with Zhang Xin of China collecting bronze. The 12-year-old Bunga Nyimas placed fourth for Indonesia.
Nyimas upgraded that later yesterday when she won bronze in the women's street final behind Margie Didal of Philippines and Isa, who took silver for a second time.
And Nyimas wasn't even the youngest competitor in the field. Her Indonesian teammate, 9-year-old Aliqqa Novvery, placed sixth in the eight-person final, narrowly in front of 33-year-old Chu Pei-yu of Taiwan.
On the men's side, 19-year-old Sasaoka scored enough on his second run to hold out Indonesians Jason Dennis Lijnzaat and Pevi Permana Putra for gold in the men's park final.
World Cup skateboarding bronze medalist Keyaki Ike won the men's street final for Japan from Sanggoe Darma Tanjung of Indonesia and South Korea's Eun Ju-won.
Skateboarding will debut on the sports program at the Olympics in Tokyo, with street and park disciplines on the schedule. The street courses contain stairs, rails, ramps and lots of concrete. The park competition is staged in a bowl.
Like other sports including snowboarding and freestyle skiing at the Winter Olympics, skateboarders are judged on elements including speed and the degree of difficulty and clean landings in their routines and tricks.
China also secured the gold medal in table tennis mixed doubles as its two pairs made the final at the 18th Asian Games.
(SD-Xinhua)