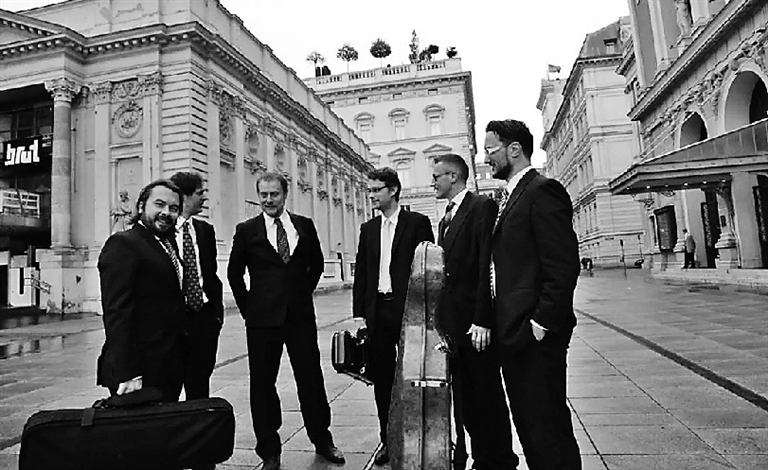 Platform K+K Vienna will present Schubert's "Trout Quintet" and "Nebesonnen," Mozart's "Turkish March" and Piazzolla's "Tango Etudes for Violin." Collaborating with the ensemble will be Austrian accordionist and composer Christian Bakanic, whose "Valse Rouge" and "Milonga Lenta" will also be performed at the concert.
Led by violinist Kirill Kobantschenko, the Platform K+K Vienna consists of violinist Johannes Tombock, violist Michael Strasser, cellist Florian Eggner, double bass player Bartosz Sikorski and pianist Christoph Johannes Eggne. Most of them are members of the Vienna State Opera Orchestra. While K+K is obviously a reference to "kaiserlich und koniglich" ("imperial and royal"), it also stands for Kirill Kobantchenko.
Kobantschenko is active as a chamber musician. Playing electronic music and working as a DJ, the versatile violinist gathered friends and colleagues who shared his interest in 2008 to found the Platform K+K Vienna.
A winner of the Prima la Musica competition in Austria in 1997 and 1999, Bakanic is one of the most sought-after accordionists today. He studied folk music at the Johann Joseph Fux conservatory in Graz, classical accordion at Graz University of Arts and has made his mark as a jazz musician in Austria.
His musical approaches and experiences blend subtly in his compositions, which combine the complex spontaneity of jazz, the temperamental passion of tango nuevo and the disciplined momentum of European classicism with the multifaceted traditions of European folk music.
Time: 8 p.m., Sept. 21
Tickets: 100-480 yuan
Venue: Shenzhen Poly Theater, intersection of Wenxin Road 5 and Houhaibin Road, Nanshan District (南山区后海滨路与文心五路交界处深圳保利剧院)
Metro: Line 2 or 11 to Houhai Station (后海站), Exit E(SD News)